Last week was significant for gold prices due to a dip below $1,300 on Monday. Market forces, however, propelled the price of gold back above this psychologically-important level by Thursday, and the precious metal finished the week strong. Among the main factors driving gold prices were interest rates, geopolitical risk, and jewelry demand.
Gold Price Movement Indicators:
Monday, May 21, 2018
Economic Stability
The threat of a trade war between the U.S. and China—the world's two largest economies—stoked fears of economic turmoil and safe haven buying in recent months. However, the markets opened on Monday with an appetite for risk following Treasury Secretary Steven Mnuchin's statement, 'We're putting the trade war on hold,' on Sunday.[1]
Prices for the yellow metal dipped below the psychologically-important level of $1,300 an ounce, with the low for the day of $1,282.22 recorded at 4 am. Gold prices rebounded significantly, though, gaining over $10 to reach $1,292.80 by 7 pm.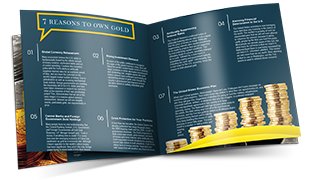 Learn everything you should know about investing in precious metals.
Request the Free Guide
Tuesday, May 22, 2018
­­ Weaker Dollar
Easing U.S.-China trade tensions and increasing U.S. bond yields lifted the dollar to a five-month high, but the greenback lost some ground on Tuesday. Foreign investors jumped on the bargain gold prices thanks to the weaker dollar and buying pushed the precious metal to $1,294.90 by 8 am. Experts predict this trend will continue as mounting national debt and the mid-term elections weigh heavily on the dollar into November.[2]
Wednesday, May 23, 2018
­­ Lower Interest Rates
Interest rates are rising but likely not as quickly as markets were anticipating prior to the Federal Open Market Committee meeting. Despite a general consensus of another rate hike 'soon,' sentiment in the meeting was reportedly dovish, suggesting the Fed may be retreating from a 2 percent inflation target. Lower interest rates make risky, interest-bearing assets like stocks and bonds less attractive.
Suggested reading: Rising Interest Rates & Gold
­­ Rising Geopolitical Risk
Just when the world thought U.S.-China relations were on the mend, President Trump infused a fresh dose of uncertainty into the markets by expressing his displeasure with recent talks with China. He also cast doubt that his summit with Kim Jong Un would occur on June 12 due to the leader's resistance to surrendering North Korea's nuclear weapons. The glitter—and safety—of gold once again prevailed, with prices hitting a high of $1,297 by 6 am.[3]
Thursday, May 24, 2018
­­ Rising Geopolitical Tensions
As predicted, President Trump cancelled his June 12 meeting with North Korean leader Kim Jong Un. The move was somewhat surprising given the country blew up tunnels to its nuclear test site as promised. Gold prices shot through the physiologically-important threshold of $1,300 an ounce to $1,305.20 by 11 am.
­­ Dollar Dip
Safe haven investing became more affordable for foreign investors after the dollar dipped to a near two-week low against the Japanese yen. U.S. Treasury yields also fell.[4]
Friday, May 25, 2018
­­ Jewelry Demand
Gold jewelry experienced record-setting demand in the first quarter of 2018 thanks to support from the new Duchess of Sussex, Meghan Markle. Last November, Markle and her then-fiancé Prince Harry told BBC News that yellow gold is her favorite precious metal and that her engagement ring is set in it. Since then, sales of yellow gold jewelry have spiked 30 percent.
Friday brought the high for gold prices for the week of $1,307 at 9 am.