In recent weeks, the threat of a trade war between the U.S. and China has made news headlines, creating stock market volatility and spikes in gold prices.[1] What is the relationship between the state of global trade and gold? Where could gold prices go if a trade war erupts?
Weak Dollar, Volatile Stock Market
The noticeably weak dollar amid rising tensions over a possible trade war indicates Wall Street's uncertainty over the political and financial future of the United States.
After imposing tariffs as high as 25 percent on 128 products made in the U.S. on April 2, China levied further tariffs on soybeans, automobiles, and chemical products on April 4. The Dow Jones industrial average plunged more than 500 points from the news. Threats from Trump of an additional $100 billion in tariffs against China on April 5 caused U.S. stock futures to plummet that evening and Friday morning.
Rising Gold Prices
On April 2, gold prices increased over one percent due to China raising tariffs on wine, pork, and other products. U.S. gold futures settled at nearly $20, or approximately $1,350 per ounce. Since weak U.S. dollars typically boost gold prices, the chance that gold values will continue to rise is good as long as the U.S. and China persist in supporting tariff wars.[2]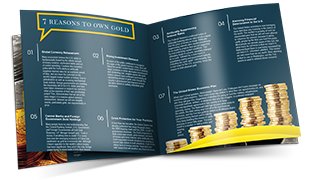 Learn everything you should know about investing in precious metals.
Request the Free Guide
Some analysts predict gold prices will jump to the highest level in five years if an international trade war occurs. Rick Rule, the chief executive officer of Sprott U.S. Holdings Inc., indicated trade tensions could fuel demand for safe haven assets like gold, pushing prices for bullion to $14,000 or higher.[3]
Gold Prices and Global Trade
The U.S. ended the Bretton Woods Agreement in 1971, effectively taking the dollar off the gold standard.[4] Since the early '70s, the U.S. has accumulated massive debt by borrowing from dozens of world countries via sales of bonds. Today, China and Japan are two of the United States' major creditors.
The Vietnam War severely reduced gold reserves while fueling inflation and weakening the U.S. dollar.[5] Desperate to find a way to fund enormous wartime expenditures, Nixon opened the U.S. to trading with China. Nearly 50 years later, President Trump has, it appears, decided to narrow that opening. As a result, gold is becoming more valuable than it has been in half a century.
The present direction the dollar is taking in response to a probable U.S.-China trade war is perceptibly bearish. And, with the dollar continuing to weaken, gold is more and more a good investment. If President Trump follows through on his plans to recoup billions of dollars he believes China essentially stole from the U.S., gold prices are expected to jolt even higher. All indications point to President Trump standing by tariffs implemented on Chinese imports.
Good news for gold investors—bad news for an already volatile stock market.
Sources:
[1] – http://www.latimes.com/business/la-fi-markets-20180404-story.html
[2] – https://www.yahoo.com/news/gold-rises-renewed-u-china-trade-tensions-040753930–finance.html
[3] – https://www.bloomberg.com/news/articles/2018-04-02/gold-to-top-1-400-as-sprott-s-rule-sees-winnerless-trade-war
[4] – https://www.investopedia.com/terms/b/brettonwoodsagreement.asp
[5] – https://www.huffingtonpost.com/charles-kolb/august-15-1971_b_4284327.html