The gold spot price chart indicates a pullback for the yellow metal last week. Several factors can influence gold value on any given day. Last week's main market movers were the dollar and geopolitical risk.
Gold Price Movement Indicators: ­
Monday, May 14
­ Weak Dollar
Markets started with higher gold prices during Monday's trading after subdued U.S. inflation data the week prior suggested fewer interest rate hikes than expected this year. The news put pressure on the dollar and sent gold soaring to a high of $1,320.80 around 4 am. A weak dollar makes gold more affordable for foreign investors and is viewed as a buy signal.
­ Geopolitical Risk
Tensions in the Middle East after President Trump withdrew the U.S. from the 2015 international nuclear deal with Iran and reimposed sanctions against the country last week also supported stronger gold prices. Adding fuel to the geopolitical fires on Monday evening was the fatal shooting of Palestinian protestors by Israeli troops on the Gaza border during the opening of the U.S. embassy to Israel. Fifty-eight protestors were killed and 2,700 injured.[1]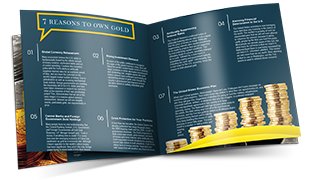 Learn everything you should know about investing in precious metals.
Request the Free Guide
Tuesday, May 15
Stronger Dollar
Rising U.S. borrowing costs, under-target inflation, and comments by Cleveland Fed President Loretta Mester that the Fed would continue to gradually raise interest rates all bolstered a stronger dollar, pushing the price of gold to a low of $1,290.20 by noon.[2][3]
Wednesday, May 16
­ Geopolitical Risk
Just when it seemed tensions between the U.S. and North Korea might be easing, North Korea threatened to cancel the summit between Kim Jong Un and President Trump planned for June 12 in Singapore due to a joint military drill by the U.S. and South Korea.[4] Gold prices jumped to the high for the day of $1,295.20 around 4 am. Asian shares took a beating as the news spread throughout the region.
Thursday, May 17
Stronger Dollar
Despite a boiling geopolitical climate, a stronger dollar and record-high 10-year Treasury yields served as headwinds for the yellow metal. The price of gold reflected this tug of war between geopolitical problems and strong economic indicators, hitting a high of $1,293.70 at 2 am and a low of $1,287 at 6 am.
Friday, May 18
­ Geopolitical Risk
Europe was the source of political unrest late in the week. The imminent formation of a new populist government in Italy and its stated promise of a "spending and tax cutting binge" caused Italian investors to unload bonds and flock to safe haven assets.[5] Gold prices hit their high for day of $1,293.70 by noon.[6]