With rising inflation and economic uncertainty around the globe, the demand for physical gold is strong. In fact, Q1 2022 was the best start to a year1 for the U.S. Mint's sales of gold bullion in more than 20 years.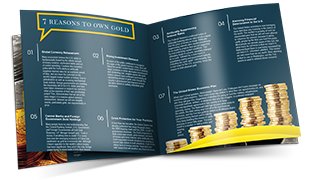 Learn everything you should know about investing in precious metals.
Request the Free Guide
According to recent sales data, in March alone, the U.S. Mint sold 155,500 ounces of American Eagle Gold coins. When combined with a strong performance in both January and February, approximately 426,500 ounces of gold were sold during the first quarter of 2022. For comparison, that's an increase of 3.5 percent from Q1 2021.
Steve Rand, General Manager and Sr. Precious Metals advisor at Scottsdale Bullion & Coin, shared his thoughts on why physical gold demand is so high:
"Demand is high because investors are worried. You have inflation at a 40-year high, significant geopolitical issues, and little confidence in the leadership getting the economy back on track. For those reasons, investors are looking for safe-haven investments to protect their money. And gold is the ultimate safe-haven investment."
The next three months are likely to bring more of the same regarding inflation and economic uncertainty (both at home and in Europe). When you add the war in Ukraine to the mix, Q2 gold demand and sales are likely to be similar, if not stronger, to Q1. Rand added the following:
"It doesn't appear anything will change anytime soon, likely things will get worse, so demand for physical gold and silver will continue to be strong. I imagine that the U.S. Mint will see continued high demand in Q2, as long as they can get the gold supply. Silver would be hitting highs as well if there wasn't such a supply issue."
If you didn't get in on the buying action in quarter one, it's time to take a strong look at the benefits of investing in gold now. Sentiment for gold and silver remains high and demand for physical gold and silver is poised to remain incredibly strong, which will drive prices for physical gold and silver up. Take advantage of the lower gold and silver prices today before they increase in the months to come.