As noted in our 2019 silver price forecast, an ounce of silver went for $15.47 on December 31, 2018. As we expected when we declared 2019 a bright year for silver, the price of silver jumped 17% in 2019. During the year, silver prices have reached highs of over $19.50 an ounce and settled in around $18 an ounce in the last trading days of December. Now that the new year is here, it's time to look at the silver price forecasts for 2020.
UPDATED: Silver Price Predictions for 2023
Will the price of silver go up or down in 2023? What trends should investors be watching? Read the outlooks here: Silver Price Forecast 2023
Price of Silver Forecast for 2020
Are the end of 2019 and the beginning of 2020 good times to buy gold and silver? To make an informed decision, it helps to begin by looking at the many ways silver gets used, the relationship between supply and demand, and finally, industry analysts' estimates for the expected price of silver in 2020.
Silver Supply vs. Demand for 2020
These three general areas spark most of today's demand for silver: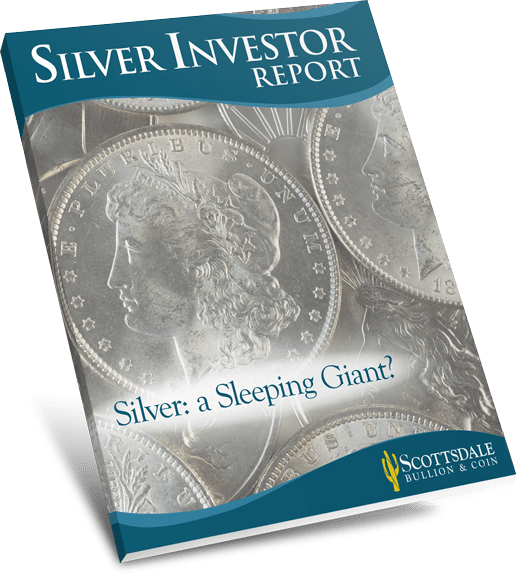 Unlock Silver Investor Trade Secrets in our Investor Report.
Get Your Free Report
Industry: Just about 60 percent of the yearly supply of silver goes for such industrial applications as solar panels, electric car parts, and other electrical components.
Jewelry and silverware: Of course, the jewelry and silverware industries rely upon silver for its appearance, characteristics, and relatively low price when compared to other precious metals.
Investments: The rest of the silver supply mostly gets pressed into bullion coins and bars. Typically, investors purchase these items from government or private mints or on the secondary market from other investors or dealers. Silver may be bought and sold as physical objects or as assets held by funds.
The latest report from The Silver Institute tracked silver supply and demand through 2018. In the last year of the survey, the global supply of silver was 1,004.3 million ounces. At the same time, the physical demand equaled 1033.5 million ounces. This created a deficit of several million ounces.
It's worth noting that unlike other precious metals, production uses actually account for the greatest portion of silver demand. The increase in demand for production silver has typically been modest but consistent.
For instance, The Silver Institute reported these changes in demand for the decade before and including 2018:
The demand for silver for jewelry and silverware increased about 39 million ounces.
The demand for industrial silver increased about 50 million ounces.
While use for photography has declined by about 36 million ounces, it has increased for use in solar cells from 0 to 80 million ounces.
Minting coins and bars has increased demand by over 100 million ounces.
Anticipating the Expected Price of Silver in 2020 for Investors
Industrial Demand
Increased demand for production silver typically comes from industrial expansion. For instance, a scholarly report on Science Daily found that increased production of solar panels has positively impacted demand for silver, as well as prices.
On the other hand, the average silver prices from the charts provided by The Silver Institute don't directly correlate to supply deficiencies and surpluses. For instance, the average price per ounce was higher in 2016 than 2018, but the supply deficit in 2016 was actually smaller. Production use of silver—and more generally, supply and demand—provides a sort of support for silver's price but doesn't tell the whole story.
Safe-Haven Demand
As explained on Market Watch, investors may consider industrial and manufacturing use of silver, but that's not their primary motivation for buying it or any other precious metal. They consider their investment purchase a sort of insurance premium against market upheavals. Market Watch offered examples of events or concerns that could influence the price of silver in 2020. These could include predictions or uncertainty about the following issues:
Interest rate changes.
Unexpected downturns in other markets.
Political or economic instability.
Fluctuations in currency values.
Changes in other precious metals prices.
Of course, nobody has a crystal ball to know exactly what events will transpire in 2020. It's helpful to look at the silver forecast from industry analysts and experts to explore some potential scenarios.
Industry Expert Silver Price Predictions 2020
| Industry Experts | 2020 Silver Price Prediction (per ounce) |
| --- | --- |
| Keith Neumeyer (CEO, First Majestic Silver) | $130 |
| EB Tucker (Director, Metalla Royalty & Streaming) | $20+ |
| FocusEconomics (Economists) | $16.60 |
| LongForecast.com (Forecasting Agency) | $22 |
| Degussa Analysts | $23 |
| Johann Wiebe (Analyst, Thomson Reuters) | $17.50 |
Price predictions/forecasts last updated on 12/13/2019
The CEO of First Majestic Silver, Keith Neumeyer, may have made the most bullish price of silver forecast for 2020. He anticipated moves up to $130 an ounce. He believes that silver should be unlinked from other precious metals, like gold, and considered more of a strategic metal because of its industrial applications for electronics and solar power.[1]
In contrast, Metalla Royalty & Streaming director, EB Tucker, sees a tighter link between silver and gold. He said that a recent rally in gold means that silver will also move up soon. He predicts a more modest rise in the price of silver to over $20 an ounce, which would still be a substantial increase.1
FocusEconomics predicted a price of just $16.60 in the last quarter of 2020. However, that price still anticipated growth at the time they made it. Also, they believed that silver would sit at $15.80 in this last quarter of 2019, and the price is already well over that.1
Longforecast.com, a forecasting agency, believes the price of silver will be moderately volatile in 2020 and beyond. Still, they believe the average price as soon as January may peak at over $22 an ounce and generally stay over $20 an ounce through the year.[2]
Analysts from the European precious metals firm Degussa see silver prices rallying in 2020 to $23 an ounce.[3]
Financial Institution Silver Price Forecasts 2020
| Financial Institution | 2020 Silver Price Prediction (per ounce) |
| --- | --- |
| Goldman Sachs | $18.00 |
| Bank of America | $17.54 |
| The Bank of Montreal | $18.60 |
| Commerzbank | $18.50 |
Price predictions/forecasts last updated on 12/13/2019
Goldman Sachs foresees strong investment demand for silver eclipsing a slight contraction in industrial consumption, pushing silver prices to a healthy $18 an ounce in the new year.[4]
Bank of America's Precious Metals Strategist, Michael Widmer, thinks silver looks fundamentally better than gold due to a shift in global reflation that could drive industrial demand. He predicts the white metal to fetch $17.54 an ounce in 2020.[5]
The Bank of Montreal adjusted an earlier forecast for 2020 up to $18.60 an ounce. This was over 20 percent more than their original prediction.
Commerzbank analysts assert that continued loose monetary policy and "negative yields on a significant chunk of global debt" will send gold prices soaring, lifting those for silver along with them. The Bank's analysts predict $18.50 an ounce silver in 2020.[6]
What's the Price of Silver Outlook for 2020?
Some people refer to silver as poor man's gold for a couple of reasons. First, the price of an ounce of silver is much cheaper than the price of an ounce of gold. Still, most analysts believe these two metals are linked, and price changes in one of these precious metals generally reflect prices changes in the other.
Some analysts argue that silver should be uncoupled from other bullion because of its industrial applications and the recent supply deficits. For example, silver demand reached a three-year peak in 2018; however, supply fell.[7]  In that respect, silver may be vastly undervalued when compared to gold.
No matter which perspective is correct, investors rely upon silver for the same basic reasons that they purchase other precious metals. They want to use the metals as portfolio insurance in case other markets don't perform as anticipated. Generally, the price reflects that behavior as much as it does industrial demand, if not more.
It is impossible to say exactly what will happen during 2020 or beyond. However, silver still looks like a good buy, especially with the disparity between supply and demand over the past few years.
Share Your Silver Price Prediction for 2020:
How to Add Silver to Your Portfolio in 2020
If you hope to find a good deal on precious metals, silver appears to provide it. Prices have made steady progress in the past year, but industry analysts believe it has room to grow. Not only will you buy a metal that's precious to investors, it's also a material with many uses for production.
To protect portfolios, learn more about investing in silver and even how to add silver to an IRA.
What's the Gold Price Outlook in 2020?
Big banks, expert financial analysts, and even the world's largest hedge fund managers are all bullish on gold in 2020, predicting prices to skyrocket this year.
📚 Suggested Reading: