This week's gold news once again centered on the Federal Reserve's decision-making process around raising interest rates. The last FOMC meeting of the year is scheduled for December, but investors watched closely this week for signs of a direction.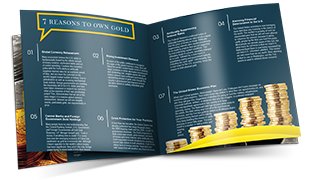 Learn everything you should know about investing in precious metals.
Request the Free Guide
Monday's gold prices opened the week on a one-month low as traders anticipated bad news for the yellow metal. If the Fed were to raise interest rates, gold would become a more expensive investment and wouldn't carry as well against other interest-bearing investments.
Many traders had come to expect that a rate hike could be pushed back until 2016 because there had been a slew of mixed economic reports recently, but the Fed released a statement last week that shook this confidence and indicated a rate hike could occur before the end of the year. The price of gold continued to fall on Tuesday and through the week into Wednesday, when the Fed was expected to make a statement about their direction.
Gold made very slight gains as some traders reentered the market on the low prices but remained under pressure Wednesday. Wednesday's ADP employment report and Friday's non-farm payrolls report were looked to as key indicators this week of economic stability.
Janet Yellen made an announcement on Wednesday that a rate hike was possible before the end of year, pointing to low unemployment, economic growth and expected inflation, and this sparked a decline in the yellow metal throughout the rest of the week. Gold futures faced the sharpest decline since July, and spot gold touched a one-month low Thursday as the dollar hit a three-week high.
Friday's jobs report showed an increase of 271,000 jobs during October, much higher than the expected 180,000. In response, gold sunk to a three-month low. The last FOMC meeting of the year is set for Dec. 15–16.