February closed out the month with around 10% gains for gold. On Monday, the price of gold rose after disappointing U.S. economic data hit the news stands, including an unexpected drop in Midwest manufacturing data. China announced new stimulus measures to support a flailing economy.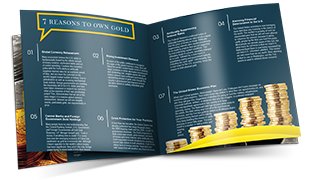 Learn everything you should know about investing in precious metals.
Request the Free Guide
"There's a lack of central bank confidence around the world," remarked Bill Baruch, market strategist at brokerage company iiTrader in Chicago. "There's a lack of faith in this equity market rally."
The cause for gold's robustness since the start of 2016 has been the failing stock markets and poor equity market, sending people back into the safe haven of the yellow metal. Since December, gold has risen 20%, the standard signal of a bull market.
Gold prices halted slightly on Tuesday on a better-performing stock market, but picked up again Wednesday when positive U.S. economic data caused some to speculate that inflation could be creeping back again. Thursday's gold prices continued to climb, despite a risk appetite in the Asian markets, indicating that many believe this gold rally will last.
On Friday, this trend continued as gold rose against positive U.S. employment reports. Gold prices reached a 13-month high above $1,275 per ounce. Traders look forward to news from Saturday, when the National People's Congress in China will discuss economic policies.