This week was good for gold prices after Wednesday's Federal Reserve meeting bounced gold prices upwatrd, but the yellow metal entered the week tentatively, first slipping on Monday. Ahead of the FOMC meeting, the dollar and the U.S. stock market were both higher, which pushed gold lower, landing below $1,230 per ounce. Tuesday's prices held flat.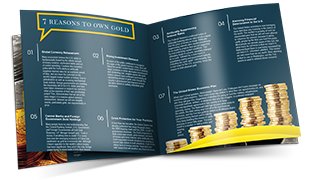 Learn everything you should know about investing in precious metals.
Request the Free Guide
By Wednesday, however, gold had regained its shine after the Federal Reserve announced their concerns over an uncertain global economy, which puts pressure on the strength of the dollar. The Fed's conclusion was to wait on raising interest rates and scale back their expectations for how often they would raise borrowing costs this year. They changed their projections from four quarter-point increases forecast in December down to two. The current interest rate of 0.25%-0.5% was determined to remain unchanged. The price of gold jumped beyond $1,260.
Gold climbed another 2.5% on Thursday, continuing gains from the previous session, while the dollar sank. Gold slipped slightly on Friday after commodity gains raised global stock markets.
The Financial Times reports that the current gold rally, in which the price of gold has gained 18% since the start of the year, is the biggest since 1986, and is expected to continue.