If slow and steady wins the race, then gold needs a kick in the pants to get up to slow and steady status. The precious metal closed out the month of July with one of the absolute worst monthly performances in its history, having lost over one hundred dollars per ounce, nearly ten percent of total value, since July 1st. The decline and fall of gold has sent many investors running for the hills without much good news to alleviate the sting.
Monday would be the only day of the week where gold gained any net value. It was a welcome change of pace after near-hysterical articles like that of the Telegraph, saying that the gold market had resulted in "blood in the streets." Gold came within a hair of re-reaching $1,100 but ended up falling just short on the day.
Gold lost two dollars per ounce on Tuesday, a relatively minor sum and just a precursor to what came around the corner. Silver prices performed worse on a percentage basis, with a drop of twelve cents amounting to nearly a full one percent loss on the day.
Wednesday saw a bit of good news as gold climbed by a little over half a dollar per ounce to close out the halfway point of the trading week at just above $1,196 per ounce. Silver gained six cents per ounce while platinum held steady at $711 per ounce.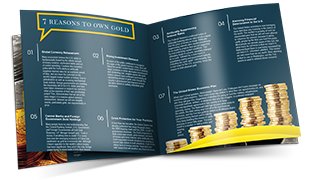 Learn everything you should know about investing in precious metals.
Request the Free Guide
Thursday kicked investors square in the gut as gold prices collapsed by ten dollars per ounce, plummeting to a new low and hitting the worst losing streak for the precious metal in sixteen years, according to Business Standard 1. The drop in value came on the shirttails of the dollar index growing by no less than 2.3%, a new margin of growth in one of the best currency bull markets in the past decade.
Friday saw gold recapture almost all of the lost value during the week before petering out to close the session at $1,185 an ounce. The continued pressure of the Grexit and the looming interest rate raise kept investors from putting their money in gold, leading to another week of declining value.
Additional Sources
1 – http://www.business-standard.com/article/reuters/gold-heads-for-longest-weekly-losing-streak-in-16-years-115073100087_1.html