This week showed that gold still glitters, as traders watched the price of gold take off on safe haven demand against a basket of troubled economic factors. Monday started the week with weak economic data from China, Europe and the United States, causing investors to return to the yellow metal as a store of safety and value. In China, the economy is in its 11th straight month of contraction, manufacturing data around the world has shown to be below growth expectations, and gold hit the highest point last seen in November 2015—above $1,125 per ounce.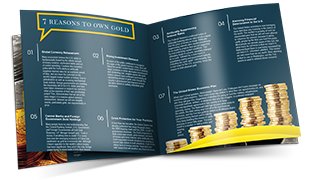 Learn everything you should know about investing in precious metals.
Request the Free Guide
Tuesday maintained a three-month high as sluggish manufacturing around the world caused concerns that the global economy may be hitting another slump. Is another recession on the horizon? Many investors were asking this question this week. With increased volatility in the world stock market, major national central banks could begin more quantitative easing, a sign that would signal higher gold prices.
On Wednesday, gold continued its climb as the dollar slid against the euro, and it was reported that manufacturing data in the U.S. for January returned less-than-expected results. The rally continued on Thursday, keeping gold prices at three-month highs this week, scaling up toward $1,150 per ounce. A Federal Reserve policymaker, William Dudley, announced that because financial situations have constricted, the Fed would definitely be taking that into account in their next meetings, in which they would decide whether or not to raise interest rates again. The price of silver also jumped on Thursday, also reaching three-month highs.
On Friday, a mixed U.S. jobs report added energy to gold's upward climb. So far, the price of gold has jumped 6% in 2016, making the best-performing commodity of the year.