After the Federal Reserve announced an interest rate hike last week and gold hit a six-year low, the price of gold has been up and down. Monday opened the week slightly supported by a falling dollar after the Chicago Federal Reserve released a statement that suggested the U.S. economy grew at a below average pace in November. The U.S. dollar index slipped 0.2% on the news, and gold gained around 1%.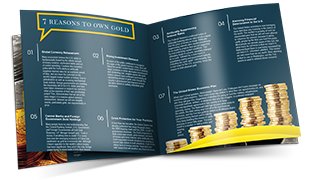 Learn everything you should know about investing in precious metals.
Request the Free Guide
Last week, the Fed announcement also indicated that regular interest rate increases would occur during 2016, but Chairwoman Janet Yellen implied these increases would not occur every FOMC meeting, and would allow time for a still-recovering economy to adjust to higher inflation. Gold has been and will likely continue to adjust to the change in rates, since gold is a non-interest bearing investment.
Tuesday's gold prices eased off the previous two-day rally. Spot gold was down 0.5%. Wednesday also saw gold prices tanking beneath the weight of a stronger dollar. But the price of gold actually ended with some modest gains after losing the last two sessions, around 0.71% when the market closed Thursday afternoon, boosted by a softer dollar and some oil price recovery. Silver prices reached a three-week high.
Trading is generally lighter during the holiday season, and traders are "closing up" their trades for the year. The global stock market was closed on Friday, December 25th, for the Christmas holiday. According to Bloomberg, nine out of the past ten years has seen a year-end rally for gold, so next week will determine how 2015 ends for gold.