The price of gold opened August in a similar way that it ended July—pressed downward under the pressure of a stronger dollar. July's lowest gold price was $1,077, the lowest in five-and-a-half years; the beginning of August saw prices around $1,087. Market forces acting on the yellow metal at the beginning of the week were the usual suspects: anticipation of a U.S. payroll report due Friday and a potential Federal Reserve rate hike in September.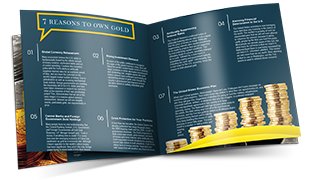 Learn everything you should know about investing in precious metals.
Request the Free Guide
Tuesday's rebound in oil prices combined with a lower dollar lent gold futures some support. In other precious metals news, platinum and palladium both fell to six-and-a-half and two-and-a-half year lows, respectively, on worries that China's slowing economy will reduce demand for these precious metals, which are used in car exhaust filters, one of China's largest markets. Atlanta Federal Reserve President Dennis Lockhart vocalized his support for a September rate hike, and gold lost some small gains.
Wednesday's news focused around analyzing the Fed comment, with market analysts putting the likelihood of a rate hike at 50% in September, the highest so far in 2015. Gold prices were not significantly affected, still hovering around the five-year low.
Thursday showed caution ahead of the Friday reports, which revealed that unemployment was down by 9.2% since this time last year. Gold hit a seven-week low, the first since 1999.