It was another week of wins for gold, as the yellow metal continued its gradual climb after the Chinese yuan devaluation last week. Gold opened on Monday with a 1.7% gain from the previous week at $1,112.70 per ounce. The surprising move by China sparked a good amount of safe-haven buying into gold as traders begin to worry about another potential financial collapse and currency wars on the horizon.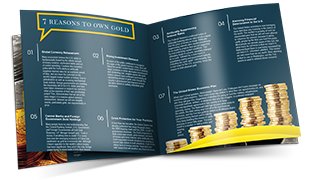 Learn everything you should know about investing in precious metals.
Request the Free Guide
"In these wars, there can only be one winner, which is gold," said Adrian Day, president of Adrian Day Asset Management in Annapolis, Md.
The beginning of the week anticipated the Federal Reserve's minutes from last month's meeting, which would reveal more about the potential future rate hike. Neither Monday nor Tuesday experienced any major price moves, but analysts across the web were once again singing the praises of gold. Henry To, Forbes contributor, remarked that now is a great time to buy gold because it is an "attractive long-term investment."
Wednesday rose 1% ahead of the Fed's minutes, and by Thursday, gold prices had risen to a five-week high after the Federal Reserve meeting minutes showed uncertainty as to whether they would raise interest rates in the fall. Investors are concerned about the health of the Chinese economy and unconvinced of the United States' recovery after mixed economic data has been revealed. In essence, there is no clear signal that the Fed will raise rates, and gold enjoyed a solid week of recovery.
On Friday, Chinese factory data spurred the dollar to plummet to a two-month low and gold closed out the week at a six-week high around $1,160, the biggest weekly climb since January.