Monday saw gold prices open at $1,328.60 due to an increase over the weekend from the previous Thursday's early close of $1,325. The price of gold rose and fell throughout the day, finally experiencing a small day-end dip to $1,328.20. Tuesday saw the yellow metal start at $1,337.50 before seeing some volatility throughout the day and ending at $1,334.10. On Wednesday, gold prices opened at $1,334.70 before soaring to the week's high price of $1,347. Buyers looking for a bargain got one later in the day when prices hit $1,339.30 at the close. Thursday saw further dips, with an open of $1,330 and a close of $1,330.70. Friday opened at $1,330 again and brought the best buying price of the week at $1,322.40 before finally closing at $1,332.90.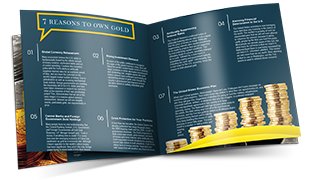 Learn everything you should know about investing in precious metals.
Request the Free Guide
Early in the week, a weak dollar drove up gold prices. This was likely based on announcements of tariffs on U.S. exports to China.[1] Analysts say that tariffs like these could have an impact on a wide range of U.S. industries and that the effects can be hard to predict. Trade concerns typically drive investors to shield their wealth with investments like gold.
Strength in the stock market on Tuesday may have been responsible for the midday dip in gold prices, as it could have allayed many investors' fears about the state of the U.S. economy in the months to come. However, with all of the market volatility lately, the gains are likely only temporary.[2]
Gold prices reached a peak on Wednesday as a result of continuing trade woes. Concerns over a possible trade war have roiled the stock markets in recent weeks.[3] However, White House advisors expressed confidence that China will 'back down' from previous declarations and 'play ball.'
Much remains uncertain and few can accurately predict what the coming months will bring. Smart gold investors should be watching for periodic dips in price that can offer bargains on this highly valuable metal.