Gold prices opened the week at $1,332 on Monday before pulling back around midday to $1,326.80. However, the price of gold recovered by the end of the day, with a close of $1,333.30. On Tuesday, the yellow metal opened at $1,333.70 before rising to $1,339.70. Wednesday opened with gold prices at $1,340.90 before they soared to the week's high of $1,360.90, reported the historical price of gold chart. However, prices dipped again before the end of the day, leading to a closing price of $1,349.60. The end of the week provided buying opportunities, with gold opening at $1,350.60 and closing at $1,340.10 on Thursday. Friday, gold opened at $1,339.90 and closed at $1,344.30.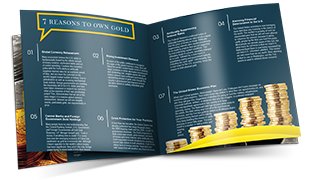 Learn everything you should know about investing in precious metals.
Request the Free Guide
Despite the brief dip in gold prices on Monday, the metal closed strong based on a weak dollar. The U.S. dollar index slipped as compared to a basket of global equities and currencies. While the U.S. government has worked to allay fears of a trade war with China, investors remain wary.[1]
Kin Mining NL announced on Tuesday that they will stop construction on their Leonora Gold Project in Western Australia for the time being as they review costs and the future schedule for completion of the project.[2] This could affect expected gold supply going forward.
The Fed released the minutes from its meeting Wednesday, which revealed that, despite all of the current geopolitical problems, the Fed doesn't plan on easing its monetary policy by pausing planned hikes in interest rates.[3] Oil prices are going up and stocks are falling due to tensions with Russia over Syria. Combined, these factors are driving investors to gold, sending prices higher.
With experts saying that the surgical strikes in Syria will provide gains in the price of gold in the coming week, now is a great time to buy before prices rise.