This week opened with the Labor Day holiday, so gold prices were largely unmoved until Tuesday. Crude oil prices shot up to a weekly high after Russia and Saudi Arabia announced they would work together to stabilize energy markets.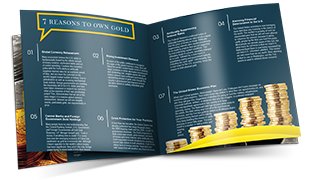 Learn everything you should know about investing in precious metals.
Request the Free Guide
By Tuesday, the American markets had returned to digesting last week's jobs report, which showed fewer jobs added in August than expected. The price of gold rose to $1,350 per ounce Tuesday as investors anticipated a delayed rate hike. This was a 2% percentage gain, the largest jump since June. This was also up from last Thursday's price point of $1,301 per ounce.
The rally continued into Wednesday as the dollar lost strength, but profit taking lowered the price of gold by the end of the day. The U.S. service sector was announced to have slowed to a 6.5-year low in August, an indication of a slowing economy.
The gold price fell Thursday as the dollar gained strength and the European Central Bank decided not to implement any additional monetary easing policies. This spiked a sale of government bonds and a rise in yields, which put pressure on gold. By Friday, the price of gold had fallen again, but not below $1,330 per ounce, as traders began to anticipate once again another looming federal rate hike.