The gold market has garnered global attention as prices continue to break records. Last week, gold process opened at $1,334.51 on Monday and, after a day of light trading, closed at $1,333.89. Market action after the close resulted in a Tuesday opening bid of $1,334.14. The gold buying continued throughout the day to produce a close of $1,341.61. The gold price chart reported a Wednesday opening bid of $1,338.83 and a close of $1,333.89. Thursday saw a strong opening bid of $1,343.49. Continued momentum added to this gain and the closing bell for the day came in at $1,347.82. The price of gold opened 79 cents short of this at $1,347.03 on Friday, and light trading produced a close of $1,346.91, a nearly $12 gain for the week.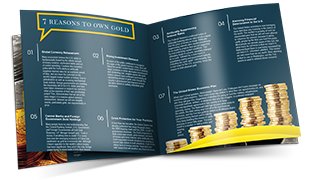 Learn everything you should know about investing in precious metals.
Request the Free Guide
The ongoing drop in the U.S. dollar index is bullish for gold prices, and that factor will weigh in next week as the markets adjust to the impact of two major hurricanes and grasp the full scale of the losses. Risk aversion continues to drive interest in gold, with the markets focused on North Korea's 69th anniversary last weekend and awaiting its reaction to pending U.N. sanctions this week. 1
This week and the following will also be important to the markets as the central banks in the UK, Switzerland, the ECB, and the U.S. provide more insight into their potential changes in monetary policy. Each of these quasi-government organizations know they have to begin to raise rates from the decade of unprecedented manipulation, but they are individually and collectively concerned about the impact of doing so. 2
At home in the U.S. the release on Thursday of the latest CPI data will also be closely scrutinized to indicate how inflation is trending. This is currently one of the key benchmarks being watched by the Fed to determine when and how it will feel justified to move U.S. interest rates up another quarter point and lighten its balance sheet. 3 U.S. retail performance data is scheduled for Friday, and this will give analysts additional insights into the direction of the economy.