Gold dropped from its position held last week at $1,335 as a slew of indicators this week painted a murky picture for the yellow metal. Of notable importance this week was a string of Fed speeches, an OPEC meeting, and the first presidential debate.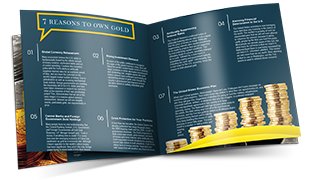 Learn everything you should know about investing in precious metals.
Request the Free Guide
After the presidential debate between Trump and Clinton, the price of gold fell on Tuesday as it looked less likely that Trump would win the presidency. While Hillary represents the status quo for many, Trump would be expected to create economic and political upheaval if elected into office, which could send gold prices spinning up.
Wednesday saw slight recovery for gold as the OPEC oil cartel agreed to a preliminary arrangement of reducing oil output by around 1 million barrels per day. Oil bounced upward, and the price of gold followed along. However, the dollar also rallied, tempering any rise from gold.
On Thursday, Janet Yellen said that there was no fixed timetable for raising interest rates, but the Fed is seriously considering a rate hike by the end of the year. A torrent of economic data is expected to be released in the next two weeks, which could influence the decision.
The same day, Deutsche Bank was under fire for being downgraded again by hedge funds, as the German bank is already in a precarious position financially. It has also been in the spotlight for its price manipulation of the precious metals market. The news gave lift to gold. The yellow metal closed around $1,317 per ounce, down from the week's opening.