The price of gold opened near the $1,320 per ounce price point this Monday, nearing the last low of the summer that occurred in July at $1,310 per ounce. Gold was lower as tension about rate hikes continued from Friday's speech by Janet Yellen. Markets are trying to analyze when the next interest rate increase might occur.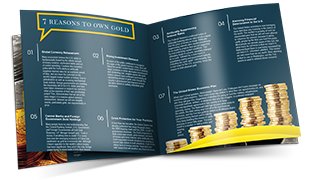 Learn everything you should know about investing in precious metals.
Request the Free Guide
Some positive economic reports rolled in on Tuesday, lifting stocks, while gold hit a six-week low. The Federal Reserve released hawkish statements noting the recovering job market, and indicating that a future increase will be determined by continued economic progress. The dollar lifted on the news.
The trend continued into Wednesday, as gold sank to two-month lows near $1,300 per ounce. U.S. consumer confidence rose to 11-month highs in August. Data showing a decline in U.S. manufacturing activity gave the price of gold a slight boost Thursday.
August clocked in the first monthly loss for gold since May, losing around 3%. However, gold pared losses for the week and closed out around $1,325 per ounce on Friday. The non-farm payrolls report released Friday showed that the U.S. added 151,000 jobs in August, a slowdown in growth—down from July's 177,000 additional jobs.