Buying momentum in aftermarkets took the opening price of gold on Monday to $1,298.74. Within an hour the bids surpassed the psychologically important $1,300 barrier, and the gold price chart indicates they stayed above that point for the remainder of the week. Tuesday's initial bid was chalked up at $1,321.24, and support for the yellow metal kept the price at $1,338.97 for the day's close. Wednesday brought an opening quote of $1,307.12, and a day of light trading in a narrow range produced a close that was up just over a dollar at $1,308.60. Heavy gold buying commenced prior to the Thursday opening and resulted in a strong initial bid of $1,311.81. Minor profit taking throughout the day barely dented the momentum, allowing traders to see a $1,320.72 close. Friday's action started off this mark by only a dime at $1,320.62, followed by more buying to produce the weekly high of $1,325.89 just before the close that shaved off the odd cents to produce a final bid of $1,325.00 per ounce.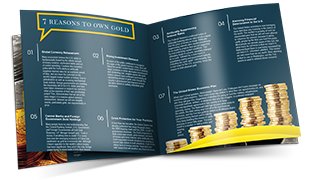 Learn everything you should know about investing in precious metals.
Request the Free Guide
With traders notching up 12-month highs for gold, long-term investors are seeing the market prices beginning to realistically reflect the impact of numerous factors. Aside from the ongoing political issues and international concerns, such as the escalating threat of war with North Korea, the eventual impact of the Fed's cheap money policy is gaining attention. 1
In fact, Goldman Sachs is just one of the larger firms that points out the role gold plays as a good hedge against not just global risks but also overall market instability. Moreover, while these analysts note such issues vary in importance over the short term, some longer-term concerns may drive gold to even higher levels. For example, the recent dovishness of the Fed's FOMC relative to interest rates and balance sheets indicates underlying concerns about the U.S. economy. 2
The coming week will see the market watching how and when Congress deals with a growing list of domestic issues, including Hurricane Harvey, the debt ceiling, and proposed tax cuts. Likewise, this week's government reports for construction and non-manufacturing prices will give additional insights into the status of the U.S. economy.