More positive U.S. economic data rolled in Monday, pushing gold lower and making a stronger case for raising interest rates in December. U.S. manufacturers started out the last quarter strongly and hit one-year peaks.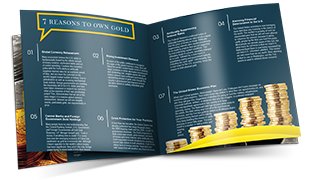 Learn everything you should know about investing in precious metals.
Request the Free Guide
Gold took a little boost Tuesday to $1,270 per ounce as the dollar sunk from an 8-month high. This week showed mixed economic reports, including world stock markets ticking higher, government bonds strengthening, and crude oil prices weakening to $50 per barrel.
The Indian festival Diwali is approaching, and in years past this has meant an uptick in gold prices as demand increases, however, this year the higher dollar is likely to put pressure on consumer gold buying.
Gold slipped down slightly on Wednesday. Chicago Fed President Charles Evans made a statement that the Fed is likely to raise interest rates three quarter points by the end of 2017.
On Thursday, durable goods orders fell, complicating the discussion of an expected rate increase. Gold prices rebounded a little. By Friday, gold had made some more modest gains in light of reopened investigation into presidential candidate Hillary Clinton's email controversy. Gold closed out the week in stand-by mode for next week's election and third quarter GDP reports.