After a massive run the previous week, gold opened Monday in a pullback to $1,285.34, albeit still substantially up on the previous week's open of $1,277.37. By 11 am in New York, however, the yellow metal had dipped to a low for the week of $1,276.51, after which it renewed the recent trend of early pullbacks followed by bull runs, closing the day at $1,280.20, reported the gold prices chart. Tuesday started the price of gold up slightly at $1,281.98 and then traded in a tight range all day to close at $1,279.87. Things really got going in afterhours trading, and Wednesday opened way up at $1,288.76 and just kept going, at one point coming within $0.05 of last week's recent high of $1,297.17 before settling at $1,290.93 to close the day. With the U.S. market closed on Thursday for the Thanksgiving holiday, the overseas markets stayed relatively quiet, and U.S. trading resumed for a half day on Friday. Friday opened with gold prices down on Wednesday's close at $1,288.37, and trading was light before the early close, which saw the market close exactly where it opened the day at $1,288.37, up by more than $3.00 for the week.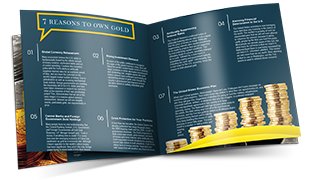 Learn everything you should know about investing in precious metals.
Request the Free Guide
The week started off with the news that President Robert Mugabe had resigned from office after four decades of rule in Zimbabwe. As one of the world's longest reigning dictators, the fall of Mugabe sent shock waves throughout Africa and the globe, and all sides are bracing for the trouble that often follows such events.
Equity markets were also hit on Tuesday with the news that the Department of Justice has filed suit to block the proposed merger of AT&T Inc. and Time Warner Inc. 1 After relative quiet for the Thanksgiving holiday, the markets appeared confused by the announcement Friday that President Trump had nominated Mick Mulvaney, the administration's current budget director, as interim head of the Consumer Financial Protection Bureau (CFPB). Mr. Mulvaney will perform both roles simultaneously until a permanent head of the CFPB is chosen. 2
For more on the future of gold prices and how you can benefit from them, download our free report, Gold's Going Down?