The price of gold opened in a narrow trading range, largely unchanged from last week's closing price, but dropped to $1,244 by the end of Monday. The pullback this week mostly hinged on the Federal Reserve minutes from last week, which signaled a rate hike in June at a likelihood of 30% instead of the previous 4% likelihood. The dollar hit a seven-week high as gold slipped to a three-week low on the first day of the week.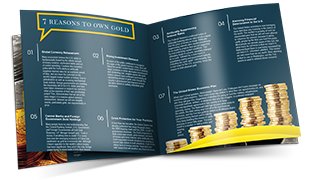 Learn everything you should know about investing in precious metals.
Request the Free Guide
Tuesday's sell off continued to a four-week low for the yellow metal, while the dollar hit a two-month high. The decline pushed through to Wednesday as positive data on U.S. home sales hit the market, and gold prices fell to a seven-week low. Gold lost 4% since last Wednesday when the FOMC minutes were released.
The price of gold rebounded from its seven-week low on Thursday, landing at $1,228 per ounce. The rebound came after oil prices hit $50 per barrel, the highest since November 2015, and a U.S. report showed a decline in crude oil inventory. Meanwhile, Japanese Prime Minister Shinzo Abe expressed concern that the world economy could fall back to a level seen in 2008 if appropriate measures are not taken.
Despite the pullback in the gold market, analysts do not largely believe gold's rally is over for the year, since an interest rate hike could cause a slide in inflation and greater volatility in the stock market. Also, after the Fed's first interest rate hike, gold and silver prices actually went up. Loss of trust in the dollar could send more investors into precious metals.
Friday's gold price closed at $1,215 per ounce, clocking a fourth consecutive week of losses.