A week of heavy trading showed strong interest in gold. Monday opened with the price of gold at $1,229.72. Gold prices pulled back amid selling, resulting in a Tuesday opening of $1,220.24, but steady buying took the price to $1,223.46 by the close. Wednesday's trading started just pennies higher while market participants awaited news on the FOMC minutes. Thursday's opening at $1,223.90 indicated the reaction to the Fed was positive. The spot gold price chart reported a steady climb to the week's high of $1,230.62 before gold prices closed at $1,228.43 on Friday.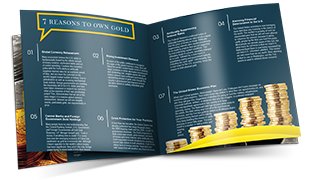 Learn everything you should know about investing in precious metals.
Request the Free Guide
Investment in safe haven assets lifted gold prices, suggesting recent political and economic uncertainty at home and abroad had a stronger influence on the market than the Fed's announcement of a June interest rate increase. 1
The firing of FBI director James Comey and the disappointing report of U.S. retail and earnings data were two major domestic issues last week. 2 Globally, France's post-election financial woes, the pending British elections, and new concerns over the health of China's banking system also fueled market concern. 3
Martin Arnold, a securities analyst at ETF, summed up the sentiment at the end of the week: 'You continue to see the political uncertainty continue to support gold.'
This week will show some volatility related to the ongoing U.S. political turmoil. The primary market data will be the UK CPI report on Tuesday, an indicator of inflation trends, and the U.S. crude oil inventories report on Wednesday. Gold buyers will be watching to see if those inventory levels have finally begun to decline, and what that might mean to the OPEC meeting the following week.