The gold price chart reported an opening of $1,231.60 on Monday. Gold prices pulled back to $1,225.06 on Tuesday and $1,208.55 by the close of Wednesday. This trend continued into after-market trading on Thursday, when the yellow metal sold for $1,195.89. However, Friday saw support return, and the price of gold closed above the psychologically important $1,200 marker at $1,204.76.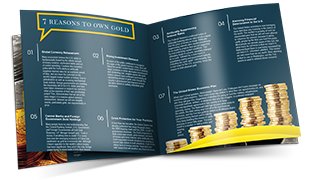 Learn everything you should know about investing in precious metals.
Request the Free Guide
There are several factors influencing the price of gold. The news for the week was a combination of better than expected U.S. economic data on several fronts and an increasing expectation of a Fed rate increase. 1 While the FOMC had signaled a desire to increase interest rates several times this year, many analysts expected them to occur later in the new administration. However, Chairwoman Janet Yellen is now indicating a more aggressive stance in an effort to control inflation levels.
Government reports that came out late last week and during this week's trading reinforced signs of a growing economy. They included positive manufacturing, non-manufacturing purchasing, and jobs report data. Each of these exceeded the published levels economists were expecting, especially the jobs increase of 235,000. The overall reaction is that the early bump caused by the November U.S. elections may last longer than initially expected. 2
There is some optimism in the gold bull camp that the strong U.S. dollar may have seen its brightest days for a while. Several of the new president's advisors are signaling a desire for a weaker dollar to help meet the administration's economic goals. 3 Those who see such efforts coming are using this opportunity to buy gold at what they see as bargain prices.