Gold and silver continued to surge this week, catapulted to multi-year highs after the decision of Great Britain to leave the European Union. Monday opened the week strong, boosted by strong Asian buying and high demand for silver, though U.S. markets were closed for Independence Day. The price of gold rose from $1,340 per ounce on Friday to $1,355 per ounce.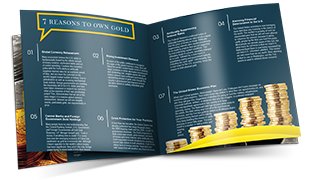 Learn everything you should know about investing in precious metals.
Request the Free Guide
Tuesday saw gold jump to a high point not seen since March 2014 at $1,358 per ounce, as traders continued to add to their safe haven positions. The Brexit decision and low bond yields are paving the way for gold to shine.
The yellow metal hit the highest point of the week and in 28 months on Wednesday at $1,373 as U.S. bond yields hit all-time record lows in 30 years. The British pound dropped to 30-year lows, and the Bank of England announced new monetary easing policy. The uncertainty of the Brexit situation has most markets recapitulating, sending ripples throughout the world.
On Thursday, gold sellers took their profits after recent highs and the price of gold corrected accordingly. A positive U.S. jobs report released Friday also pulled gold slightly lower. June's employment data showed 287,000 new jobs added, which was well above estimates. During the trading session, gold dropped to $1,345, which was a new entrance point for investors, and the yellow metal regained its temporary losses to end the week around $1,365 per ounce. The price of gold has risen 27% since the beginning of the year.