A week of steadily building gold buying momentum opened on Monday with an initial bid of $1,235.71. Light trading saw little movement in the price of gold and a final bid of $1,234.42. Steady buying after the close produced a bump in prices for a Tuesday open of $1,240.87, and despite some consolidation, the closing bid was up on the day at $1,242.41. The gold price chart reported an opening quote on Wednesday of $1,242.27 and a close of $1,241.75. Afterhours trading resulted in a Thursday opening of $1,238.85, but an increasing volume of buys drove gold prices to a midday high of $1,246.31 before a close of $1,244.58. Buying began in the aftermarket and brought in a Friday initial bid nine cents above the psychologically important $1,250 an ounce. The day closed up for the week at $1,255.24.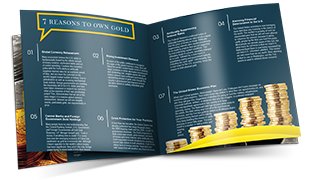 Learn everything you should know about investing in precious metals.
Request the Free Guide
Gold continues to be in a watch-and-see market as the U.S. and foreign governments seek to move their monetary policies away from quantitative easing. The hint of possible interest rate increases here and at the European Central Bank has some traders taking a more bullish stance on gold. However, this stance is countered by market data that raise concerns about a global economic slowdown. 1
The risk-averse segment of the market is closely monitoring the Asian, European, and U.S. political situations: missile testing in North Korea, Brexit in the UK, and Russian probes in the U.S. Any significant action in these areas will move the market to gold quickly.
This Wednesday, traders are paying attention to the FOMC policy announcement. Any indication that the rate of inflation is moving up would likely push the U.S. dollar down and be bullish for gold. GDP data from both the U.S. and UK will be released this week as early estimates for Q2, and both reports are expected to continue the mixed signals of recent quarters. 2
As a result of these factors most long-term investors will be taking advantage of opportunities to buy gold as the market continues to seek firm direction.