This week centered around the aftermath of the Brexit decision. The European Parliament will convene to discuss steps forward, and the EU heads of state also gathered for a two-day meeting. Article 50 may not be enacted until September, calming some of the immediate distress in the markets. Monday opened the week with oil prices drastically lower, and safe haven assets such as gold still high.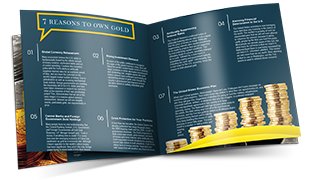 Learn everything you should know about investing in precious metals.
Request the Free Guide
Gold's volume of sales had lessened since the previous week, when a quarter of a ton of gold was liquidated to capture profits on Friday. 1 Despite strong selling pressure, gold opened the week around $50 higher than Friday's close, which was the highest weekly closing rate since July 2014. As the shock of the news fades, crude oil and gold are expected to correct slightly.
By Tuesday, gold had given back about 4% of its gains as world stock markets recovered. Wednesday saw gold climb higher on the back of a weaker dollar. Thursday's gold prices were still in the same general territory, as Brexit news began to fade. As the markets adjust to the Brexit news, gold is still positioned for long-term gains.
Friday's gold price gained momentum again. The second quarter of 2016 closed with gold gains of 25% since the beginning of the year, pointing to what many are calling a full-on bull market for the yellow metal.
Additional Sources
1 – http://www.reuters.com/article/us-gold-sales-retail-idUSKCN0ZD2AG