After opening on Monday at $1,237.37, gold traded in a tight range throughout the day. On Tuesday, gold led the precious metals in a flurry of solid buying after early profit taking, which pushed gold prices to a daily high of $1,238.19. Strong buying put prices at $1,237.60 on Wednesday. Gold purchases peaked in after-hours trading, and Thursday saw another strong opening of $1,249.30. The trend continued into Friday, with the price of gold closing above $1,256.98.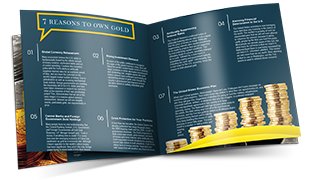 Learn everything you should know about investing in precious metals.
Request the Free Guide
Last week's trading sent gold prices higher than the 13 percent surge analysts predicted for 2017. What's driving the strong gold demand? A combination of factors underlies the current strength in the gold market. These include indications that interest rates are trending lower in the United States, the dollar has weakened, and the recent rally in the equities market is ending. 1
In fact, many of the more bullish analysts indicate a sense of vindication that the impact of the surprising election results was temporary and unsupported by market realities. Moreover, the markets had traded in a narrow range last week waiting for the latest indicators from the Fed. When those comments conveyed hesitance to increase interest rates, the gold markets saw an uptick in buying.
On top of this, market participants were again focusing on the growing problems in the EU, specifically the weakening union and euro and the coming elections in Germany, France, and the Netherlands—not to mention ongoing turmoil over Brexit. 2
Overall, there is growing consensus that gold and other precious metals will have a strong year. Now is the time to buy gold at prices likely to be big bargains by mid-year.