The markets experienced a short trading week, with the U.S., U.K., Australian, European, and other major exchanges closed on Monday in observance of the Christmas holiday.
Gold opened at a price of $1,142.02, largely as a follow-up to the dollar index. The U.S. dollar lost some of its momentum from the previous Friday, moving back from its 14-year high. Technical traders saw this price as the first level of resistance, and their early reaction bore this out. However, the week's activity pushed through this level to set positive market expectations for future gold prices. This was supported by net long positions of 114,834 contracts in the COT report. 1
With Tuesday's light trading, the price of gold fell to $1,136.75, but buyers pushed it to a high of $1,143.85 on Wednesday. The upward trend continued on Thursday, and gold prices reached another high of $1,149.74. By Friday, year-end trading tapered off, sending prices to $1,161.86. Gold price charts showed the yellow metal closed the week at $1,151.68. The nearly $13 jump during the week was a welcome end to a year that saw the price of gold increase more than 9 percent over 2015.
Various reports for the week included Tuesday's private sector data relating to consumer confidence, Wednesday's pending home sales, and Thursday's data on weekly jobless claims, wholesale inventories, and the trade deficit. None of the information seemed to have significance for the year-end rebalance trading and profit taking.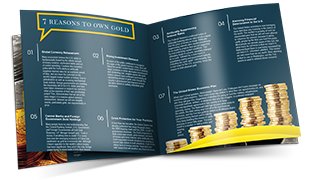 Learn everything you should know about investing in precious metals.
Request the Free Guide
Traders will be watching next week's activity closely and the potential impact of the pending inauguration of Donald Trump on the markets.
Additional Sources
1 – https://www.financialspreads.com/commitments-of-traders-guide.php