The story of the price of gold this week ran closely with that of the movement of the U.S. dollar. The dollar set new highs, placing downward pressure on gold, which started the week at $1,140.04. After briefly breaking $1,141.22, immediate selling pressure brought the trading on Monday to $1,137.44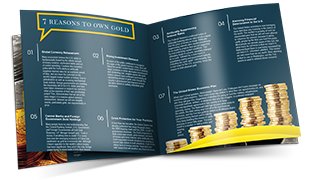 Learn everything you should know about investing in precious metals.
Request the Free Guide
However, the mid-week decline in the dollar brought stability to spot price of gold, which sold at $1,131.54 by 2:53am GMT. U.S. gold futures also steadied at $1,132.90. Selling pressure was evident but light during the session on Thursday. 1
Gold prices moved higher on Friday, closing at $1,134.10 in continued thin trading due to the holidays. The upward swing was created by news that the dollar was wavering and fell back from its 14-year high.
The week's trading, however, generally reflected the ongoing bump in equities and the dollar. The Fed interest rate increase of earlier in the month is also causing a rise in U.S. Treasuries.
At the same time, the overall trading levels indicate that many market participants have already closed the books on 2016 and are not reacting to gold news. 2 Aside from ongoing portfolio adjustments and end-of-year trades, the market is not expecting any major U.S. or global political or financial developments to cause significant activity for the remainder of the year.