The outcome of the recent presidential election is still impacting gold prices. Opening the week at $1,183.54 an ounce, the price after the announcements of the new Treasury and Commerce Secretaries, billionaire entrepreneurs Steve Mnuchin and Wilber Ross. Both are supporters of Fed Chairwoman Janet Yellen and potentially a mid-December interest rate hike at the FOMC meeting. 1
A number of other sources place the recent pull back from gold's July highs at the foot of ongoing uncertainty over how the administration of President Donald Trump will impact global markets. Fear over the outcome of the Italian Constitutional Referendum was one of the major international issues that underpinned the bullish drive to gold during 2016. 2
As a result, political instability in the EU has been drowned out in the markets since Trump's election. Some have developed a seeming joy over what proposed changes might mean in creating a more robust economy here at home. The U.S. jobs data report coming in line with analyst predictions helped fuel this positive environment and, as a result, firmed up support for the dollar.
These factors drive many long-term investors evaluating the right time to buy gold to average down prices. Gold's price this year has averaged $1,256.72, making any gold purchases these days a big bargain. For example, Swiss Bank UBS analysts see a return to rising gold prices in early 2017, with a projected average gold price of $1,350 for all of next year.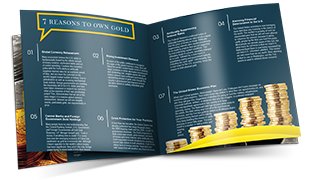 Learn everything you should know about investing in precious metals.
Request the Free Guide
Following a 10-month low of $1,162.28 on Thursday, gold prices made up ground with a Friday closing of $1,177.54. 3 The coming week will bear close watching as significant events domestically and internationally come to a head, potentially fueling further shifts in the price of gold.
Additional Sources
1 – http://www.cnbc.com/2016/11/09/gold-steady-as-stocks-dollar-rebound-after-trump-win.html
2 – http://www.breitbart.com/london/2016/10/16/economist-austria-leave-european-union-brexit/
3 – https://www.bullionvault.com/silver-price-chart.do?currency=USD&weight=oz&timeframe=1w