The week's gold trading opened on a buying trend that saw an initial bid of $1,269.11 and close slightly up at 1,269.27 on Monday. Tuesday's open of $1,271.11 showed strength from aftermarket buying, but selling took the closing bid to $1,267.24. More aftermarket trading resulted in a strong Wednesday opening of $1,270.65, which selling again sent to $1,263.05. Support showed up in the afterhours buying that followed with gold prices opening at $1,268.85 on Thursday and continued throughout the day to close up at $1,268.92. The price of gold opened at $1,258.67 on Friday and closed at $1,258.85.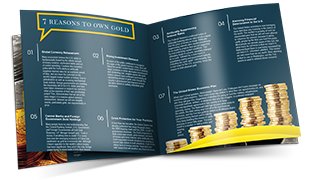 Learn everything you should know about investing in precious metals.
Request the Free Guide
Traders continue to try to interpret mixed market signals and have been holding off on making major commitments. Improved U.S. economic data contrasted with concerning political news. The release of positive jobs numbers caused a firming of the dollar's position and some selling of the yellow metal by speculators. At the same time, continued stumbles in the administration and growing concerns over North Korea's nuclear activity fueled safe haven buying. In addition long-term investors who see current prices as an opportunity to add to their portfolios have also been buying gold.
On the energy side of the market analysis, some economists see the price of crude firming up due to declining supplies. 1 That would make any increase in demand from recovering economies bullish for the price of crude. As economists have noted in recent years, oil and gold prices have a complex relationship.
No major reports or political events are forecast for this week, although analysts seeking signs of a trend will pay closer attention than usual to even minor developments, such as China's CPI data on Wednesday.