This week in gold news followed a trend that has been developing over the last month: gold is trading in a fairly narrow range without much impetus from economic shifts. The price of gold opened this week around $1,340 per ounce as global stocks stuck around a one-year high. A retail sales report released Friday was worse than expected, and pushed the dollar to a three-month low. It also reduced expectations of a Fed rate hike in December.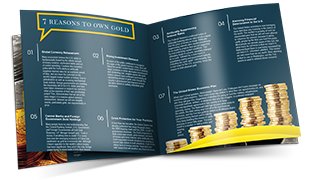 Learn everything you should know about investing in precious metals.
Request the Free Guide
Tuesday saw gold lift higher on policy uncertainties and fears of deflation sparked by last week's report, but otherwise was a day of anticipation for the Fed minutes that would be released on Wednesday.
The minutes from the Fed's July meeting showed mixed stances on raising interest rates. Some want to raise rates this year, while many want to further monitor the economy before increasing rates again. There was a slight hawkish tone overall but nothing definite. The markets position the likelihood of a rate hike in December or early next year at 50%, while a rate hike in September is only 21% likely to occur.
Thursday's gold prices rose on the split state of opinions from the Federal Reserve, while the dollar sank. Friday left gold with daily losses of 1% to close out the week slightly above $1,340 per ounce. Seasoned analysts generally concur that gold will consolidate for a while longer before entering the "gold season."