Gold prices opened on Monday at $1,247.85, and steady buying moved prices to $1,255.69 by closing. After-hours activity moved the quote to $1,260.11 before opening Tuesday at $1,257.03. Trading stayed in about a two-dollar range until after the close, when continuous but light selling took the price to a Wednesday opening of $1,245.72. The spot gold price chart reported that the yellow metal was selling above the $1,250 mark by midmorning and hit at high of $1,258.35 by the close. After-market sales drove the price of gold to a Thursday opening of $1,252.48. News of the U.S. air strike on Syria created heavy buying, which resulted in a week high of $1,266.62 on Friday morning. 1 Traders marked another up week when the gold spot price closed Friday at $1,254.55 while awaiting further news on Syria.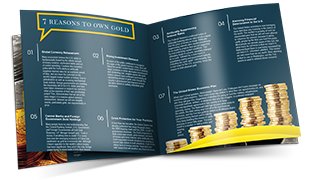 Learn everything you should know about investing in precious metals.
Request the Free Guide
With a fourth week of gains, gold beat its 200-day moving average as safe haven investors added to their holdings and new buyers entered the market. It is worth noting that the week's action touched the highest price for gold since November 10 at $1,269.30. Gold futures spiked briefly at $1,271.
The big wait for gold price news this week will be watching for further developments in the Middle East 2 and any reactions from Russia or other players. Long-term gold investors and newer market participants are benefiting from the news, but others see the gold spot price movement as verification of earlier bullish signals. While the U.S. election results carried over into Q1 of 2017, the ongoing global political and economic uncertainties are providing underpinning for safe haven investments.
Other anticipated U.S. news will come on Friday with the report on CPI data. China will announce its trade data on Thursday, and there are several lesser-important international meetings and reports related to various global economic situations.