Gold had an up-and-down week that ended around the same range, if slightly lower. On Monday the yellow metal opened up the markets strong, buoyed by rebounding oil prices. Over the weekend, the price of oil had plunged as major producer nations failed to reach an international agreement about output in Qatar, but the price stabilized on Monday, boosting gold prices.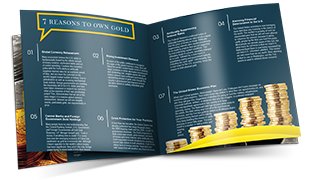 Learn everything you should know about investing in precious metals.
Request the Free Guide
On Tuesday, China announced a yuan-denominated gold price fix on the Shanghai Gold Exchange. The price will be set twice a day in units of renminbi. Eighteen institutions are slotted to join the benchmark fixing. This is big news for the gold market, since London and New York have historically been the major price fixers, and China is clearly asserting influence. The move could eventually decrease influence of the London benchmark, but the markets were not immediately affected. China is the world's largest consumer of gold, followed closely by India.
World stock markets were generally weaker Wednesday, giving the gold price a small boost. On Thursday, gold hit a five-month high around $1,270 per ounce, and then lost momentum due to profit-taking and negative outside markets. U.S. jobless claims were the lowest since 1973, and the dollar index was gaining strength. The European Central Bank had a meeting, and while no monetary changes were put in place, President Mario Draghi indicated more monetary stimulus could be in store in the future.
Friday's gold market maintained for most of the morning, then dropped in the afternoon. Traders are anticipating the next Fed policy meeting, scheduled for Wednesday, April 27.