Last year was marked by a pullback in prices for not only precious metals but also the stock market—despite all of the headlines about the record-long bull run. Platinum prices may have dipped more than gold and silver, but the metal still performed better than some major equities indexes.[1]
Experts and analysts expect 2019 to bring a price reversal for the precious metals complex, in part due to continued stock market volatility and possibly even the next recession. Platinum, gold, and silver prices are predicted to rise (read the gold price predictions 2019 and silver price predictions 2019).
See what's in store for one of the purest precious metals on earth in 2019.
UPDATE: Platinum Price Predictions for 2020
Now that 2019 has come and gone, we've compiled 2020 forecasts from financial institutions and market analysts. Will the price of platinum go up or down in 2020? Read the forecasts here: Platinum Price Forecast 2020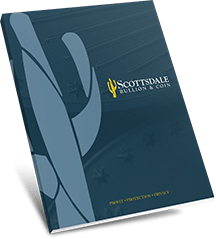 Everything you need to know to get started in Precious Metals
Learn how precious metals can strengthen your portfolio, protect your assets and leverage inflation.
Request the Free Guide
Platinum Price Predictions 2019
Understanding the trajectory of platinum prices last year can help put predictions for 2019 into perspective. The price of platinum opened at $937 on January 2, 2018, shot to the annual high of $1,020 on January 25, 2018, and then pulled back to $788 by the close of the market on December 28, 2018.
Expectations for platinum's performance in 2019 range from recouping losses to surpassing 2018's high. Already this year, prices for platinum have been steadily increasing, spiking at $829 on January 7.[2] See the live platinum spot price per ounce.
Industry Insider Platinum Price Predictions 2019
KC Chang, an economist at IHS who follows the platinum market, foresees the price of platinum averaging around $900 an ounce.[3]
Lawrence Williams, the former CEO of Mining Journal, expects platinum prices to trace gold prices, rising to around $1,000 this year.[4]
Members of the London Bullion Market Association predict the price of platinum to hit $1,010 by the fall of 2019.[5]
Financial Institution Predictions for the Price of Platinum in 2019
| | |
| --- | --- |
| Bank | Platinum Price Prediction for 2019 |
| Deutsche Bank | $820 |
| Natixis | $875 |
| Commerzbank | $900 |
| Standard Chartered | $930 |
| ABN AMRO | $1,100 |
| TD Securities | $1,031 |
[6][7][8][9]
Platinum Price Factors 2019
Platinum is historically cheap both in absolute terms and relative to gold and palladium, suggesting a price rise. That said, the sizable oversupply will limit its recovery potential. We therefore expect platinum to rise less pronounced than gold next year.

–Commerzbank[10]
Supply and demand will be the primary driver of platinum prices in 2019. Similar to 2018, there will be a surplus of platinum supply, but it will be smaller this year and demand greater. How much smaller? Ten percent, indicates the World Platinum Investment Council's (WPIC) latest Platinum Quarterly. Supply is set to rise 1.6 percent and demand 2.4 percent.[11]
Platinum Supply
An increase in platinum recycling and higher output from South African and North American mines will likely lift the supply of platinum 2 percent this year, following a 1 percent dip in 2018, reports the WPIC.[12]
Platinum Mine Supply
Despite a ramp up in operations at South African mines in 2018, production reductions at facilities in Zimbabwe and Russia resulted in a 1 percent decrease in output.[13] The WPIC predicts the operational disruptions that stymied production last year to continue but for supply to remain somewhat stable.[14]
For example, in Africa, where more than 70 percent of the global supply of platinum comes from, weak infrastructure and labor strikes over wage disputes are predicted to hinder mine output. Uneconomical mining depths and depleting reserves at exiting mines have also contributed to lower production throughout the southern portion of the continent.[15]
More generally, the lower platinum prices of 2018 could end up limiting production at mines globally. 'My main factor on why platinum prices will move higher in the next 12 months is there will be more supply-side support. When platinum prices are in the $800- to $900-a-troy-ounce range, that limits the amount of production that is being brought forward. … I think that does provide upward price pressure for platinum as we go into 2019,' explained KC Chang of IHS.[16]
Platinum Recycling Supply
A bump in autocatalyst supply will offset a decline from the jewelry industry, resulting in 1 percent growth in year-on-year supply of recycled platinum.[17]
Platinum Demand
Industry insiders believe platinum demand will increase in 2019 in several sectors.[18] Investors will return to the market to snap up bargain prices. Purchases of platinum jewelry should pick up for the first time since 2014. The slump in usage of platinum in the auto manufacturing sector should correct slightly.[19] Petroleum refining and glass manufacturing will likely continue to boost demand.[20]
Platinum Investment
The WPIC CEO Paul Wilson thinks investment in platinum will continue to rebound this year. In 2018, demand for coins and bars jumped 45 percent year-on-year.[21] It's expected to double to 250,000 ounces this year.
What will spur investor interest in the precious metal? Perceiving the surplus as bottoming out, investors may add platinum to their portfolios while it's still inexpensive in comparison to palladium and gold.[22]
Platinum Jewelry
Analysts at the economic news and forecasting website Focus Economics expect a rebound in demand from another sector: jewelry.[23] After a 2 percent pullback in 2018, the WPIC predicts demand for platinum jewelry to rise 1 percent this year.[24]
A bottoming out of demand for platinum jewelry in Chinese markets will likely contribute to a shift in sentiment and overall increase in purchases.[25]
Platinum in Industry
If the world does well, industrial demand does well.

–Trevor Raymond, research director at the WPIC.[26]
Platinum has wide and varied uses across the industrial sector, and demand is predicted to grow this year. After rising 8 percent in 2018, usage of platinum should increase 4 percent in 2019, according to the WPIC.[27]
Automotive Industry
We could see a modest rebound in [demand from] the automotive market, especially if some auto manufacturers start substituting platinum for palladium,

-KC Chang of IHS[28]
Speculation is high among industry insiders that the makers of petroleum vehicles will switch from using palladium to platinum given the significant price difference between the two precious metals. The metals are embedded in catalytic converters to reduce emissions, but platinum has historically been used in diesel engines, demand for which declined following the Volkswagen emissions tests scandal of 2015.[29]
Platinum vs. Palladium Prices
However, the WPIC doesn't expect the change to impact demand this year because it will take time to certify and implement new catalyst formulations.[30]
Accounting for about 40 percent of demand, the use of platinum in catalytic converters will likely dip 1 percent in 2019 after falling back 7 percent in 2018, indicates the WPIC.
But demand in the following years could increase due to major investment into battery electric vehicles, which supports growth in the manufacture of fuel cell electric vehicles. 'We see early platinum demand growth in trucks preceding material use in fuel cell cars,' explained Raymond.[31]
Other Industries
Petroleum refining and glass manufacturing will continue to account for a significant portion of the demand for platinum this year. This is especially the case in North America and China where refining capacity is expected to increase.[32]
Continued reading: 5 Key Factors That Influence Platinum Prices
Why Buy Platinum in 2019?
The best time to purchase any asset is when prices are low. This is especially the case for assets with fundamental market support, such as use in industry and historic investor interest.
Expert price predictions and analysis point to a price bottom for platinum in 2018 and a slow recovery in 2019 that could really take off in 2020 and beyond.
That means this is the year to diversify your portfolio with platinum before prices breakout.
Discover how a precious metals IRA with gold, silver, and platinum can help secure your financial future.