Gold prices continued to climb on Monday and have now broken through the $1,300 per ounce "barrier." In last week's Kitco News Gold Survey, the participants who were bearish on gold cited gold's inability to move higher than $1,300 as a reason for pessimism about a rebound. The fact that this has now happened might mean that the 57% of respondents that were bullish may be on to something.
Gold's historic decline in value has caused a lot of analysts to speculate on when it may hit bottom. Recently, most experts have agreed that it was getting close and today's climb may be evidence that the bottom was reached.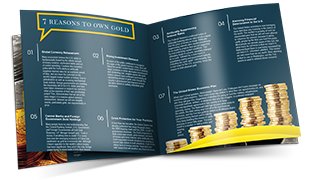 Learn everything you should know about investing in precious metals.
Request the Free Guide
A weakening U.S. dollar looks to be the reason most commodities have seen gains recently. According to Frank Lesh, a broker and futures analyst with FuturePath Trading, the weak dollar helped to push gold above $1,300 and this triggered buy stops set by investors using this as a magic number. "The market had been coiling, getting ready to go. The dollar weakness helped (gold). This market has absorbed a lot of selling lately. Now that we're over $1,300, (buyers) are coming in," Lesh said.
Also this weekend, China and Japan announced further "quantitative easing" plans which can only be a good thing for gold's value. In quantitative easing, governments devalue currency by putting more money into circulation with the hopes of stimulating economic growth. As currency loses value, tangible commodities, like gold, tend to gain value.
Some analysts, such as BMO, still feel that that the gold market has "a long way to go before demonstrating a revival in speculator interest" and that the Federal Reserve's eventual tapering of quantitative easing may keep a cap on gold prices. BMO specialists go on to say, however, that this uncertainty of when the Fed will act and that inflation may be just around the corner continues to make gold a "safe haven." They also mention a potential catalyst for another spike in gold: "Any hint that a slowdown in bond purchases would take place before there is a real foothold on jobs growth could see another upward move for gold prices."