December has started off with a bang for gold. A rally in oil prices has sparked a renewed interest in the precious metal as investors move their money to safe-havens in anticipation of the price increases effect on the global economy.
According to Bloomberg, crude futures in New York rose as much as 3.8 percent, leveling off at the highest price since June (at the time of this article gold was trading at $1,215.30 an ounce). Before this push, the yellow metal was down to a five-year low. Today's rally occurred even after a morning drop in prices caused by investors reacting to a Swiss vote rejecting a measure "that would have required their central bank to hold a portion of its assets in bullion."
In addition to the spike in oil prices, there were other major announcements that could be warning signs for the stability of some of the larger economies in the world. Moody's Investor Service cut Japan's credit rating while investors were still digesting the data showing that U.S. holiday spending had unexpectedly slowed.
Last month gold investors were told by the Federal Reserve that inflation could be held in check by lower energy prices, leading to a decrease in demand for the metal as a hedge. So the revelation that oil prices would be increasing sent some people scrambling back to gold.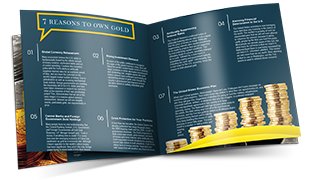 Learn everything you should know about investing in precious metals.
Request the Free Guide
In a telephone interview with Bloomberg, Tai Wong, the director of commodity products trading at BMO Capital Markets Corp. in New York, said, "What's driving the gold market here is crude. The move is snowballing as recent short covering and micro-term momentum buyers go long. [Gold futures prices have] traded far enough above $1,180 to signal a key reversal day."
Commenting on the effect of the downgrade for Japan and slower U.S. retail sales, Mike McGlone, the research director at ETF Securities U.S. in New York, told Bloomberg that it "suggests lower interest rates and a flight to quality, and that's good for alternative assets like gold and silver."
Gold going back over $1,200 an ounce is a big deal since it got as low as $1,130.40 an ounce less than a month ago, which was its lowest since 2010. As the central bank of Japan and other central banks throughout Europe try desperately to spark their economies with even more extreme stimulus measures, demand for gold and other precious metals should continue to surge.