UPDATED: Gold Price Predictions for 2023
Will the price of gold go up or down in 2023? What trends should investors be watching? Read the forecasts here: Gold Price Forecast 2023
Despite the impact of the U.S. presidential election on the equities markets, 2016 was a good year for gold. Hitting a high of $1,344 in July, prices for the yellow metal closed up eight percent at the end of the year. 1
Of course, everyone is now looking at the prospects for further increases in 2017, and the gold price forecasts range from nice to potentially phenomenal returns. 2 Of special note is the fact that most mainstream market analysts have made positive predictions for gold prices for the coming year.
Gold Price Predictions for 2017
Market analysts' gold price predictions range from reasonable to outstanding for 2017: 3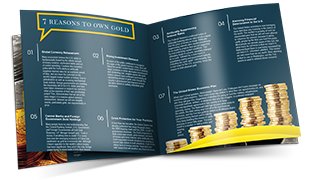 Learn everything you should know about investing in precious metals.
Request the Free Guide
Bank of America Merrill Lynch – $1,200 by mid-year
Credit Suisse – $1,450 by yearend (upgraded from 2016)
RBC Capital – $1,500 by yearend (upgraded from late in 2016)
Jim Rickards – $10,000 by 2018 (due to major bank failures around the globe)
Jim Sinclair – $50,000 by 2018 (if China goes to at least a partial gold standard in China)
The average of mainstream predictions places gold at $1,245 for 2017 and $1,303 for 2018.
Factors Driving the Positive Gold Price Forecast
Serious students of the precious metals market can see the current factors driving positive gold price predictions for the coming year:
Rising purchases of gold for safe haven and investment purposes 4
Increasing industrial and jewelry demand for gold
More purchases by central banks around the world
Multiple economic and political shocks that could be tipping points for another global economic crisis
Increasing inflation
A weakening U.S. dollar and minimal Fed interest rate increases
No expectation that governments will address ongoing unsustainable deficit spending
Rising costs of production as energy prices recover
Opportunity in Market Volatility
With these overall bullish predictions comes a reminder from a number of sources that the next few months will probably see some price peaks and dips. 5, 6 This market activity can be expected due to the many different situations that could create short-term, even daily, trading situations from speculators and institutions.
Long-term buyers of gold appreciate these market swings as an opportunity to periodically lock in profits. Of course, just as Brexit set off a major price increase in 2016, there are plenty of potential market surprises lurking around in 2017. Any one or multiple of these developments could make the gold prices today a real bargain in just a few months.
📚 Suggested Reading: