On March 8th, 2022 Comex gold prices hit a new record high of $2,078 an ounce, but within a week, gold prices pulled back below $1,920 an ounce — currently at $1,921.50 an ounce at the time of publication.
With such a big swing in prices, buyers may be wondering if now is a good time to buy gold? Well, some major financial strategists are pointing to this being a great buying opportunity for those with a mid-to-long-term outlook.
Goldman Sachs Forecasts $2,500/oz Gold in 6-12 Months
Mikhail Sprogis, Sabine Schels, and Jeffrey Currie of Goldman Sachs are expecting prices to sharply rise by end-of-year (EOY)1. In a recent note, the trio said:
"The last time that we saw all major demand drivers accelerate simultaneously was in 2010-2011 when gold rallied by almost 70 percent. Given the material upward revision in investment and demand assumptions, we now upgrade our 3/6/12-month gold targets from $1950/2050/2150 an ounce to $2300/2500/2500 per ounce."
Bloomberg Forecasts $2,500/oz Gold by End-Of-Year
Goldman Sachs isn't the only one forecasting higher gold prices. Bloomberg Intelligence senior commodity strategist Mike McGlone is expecting the same: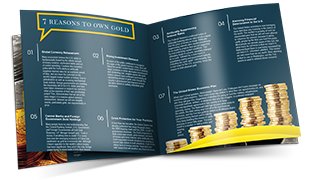 Learn everything you should know about investing in precious metals.
Request the Free Guide
"Markets may be facing an extended risk-off reversion period, which we see as essential to reduce inflation pressures. Gold stands to be a primary beneficiary, potentially along with U.S. Treasury long bonds and Bitcoin. Gold is poised to cross the $2,000 rubicon … Potential end game for 2022 – $50 crude, $2,500 gold, recession."
Don't Wait To Buy Your Gold — Buy Your Gold and Wait!
There are a lot of variables at play here — including uncertainty with the war in Ukraine and economic pressure at home — but there's good reason to be optimistic about the price of gold over the next six to twelve months.
Don't miss out on this prime buying opportunity. Sentiment in gold remains high and demand for physical gold and silver is still incredibly strong. Take advantage of the lower prices now before they jump.
👉 Suggested Reading: 10 Good Reasons To Buy Gold in 2022