"Gold is up probably $120-130 dollars in the last two and a half weeks. It looks like a major technical breakout…is happening."

— Precious Metals Advisors Damian White
There's a lot going on in the world, to say the least. Every day, it seems there's a new catastrophe playing out somewhere in the world. These negative events are putting a lot of pressure on global markets and causing further damage to an unstable economy.
Watch the video to hear what Precious Metals Advisors Damian White & Todd Graf are saying about how the various economic hazards have caused the gold spot price to break out and what this means for investors.
Economic Pressure Worsens
Financial markets across the globe are experiencing increased pressure as the barrage of economic threats shows no sign of letting up. Just this week, the Canadian government froze hundreds of bank accounts in reaction to the ongoing trucker protests in the nation's capital. With a similar movement developing in the US, many people fear the same reaction here.
On top of that, the worst horrors in Ukraine have been realized as Russia mounts a full-scale invasion, rattling an already weakened global economy. These economically straining events come amid worsening inflation, a devaluing of the US dollar, and impending rate hikes. Currently, things aren't looking good for the economy. And the future isn't any brighter.
Investors Rush to Safe-Havens
The rapid deterioration of the economy is causing investors to flee into financial safe-havens to protect their wealth. A loss of confidence in the US dollar has led many people to view greenback-linked assets as too risky for the foreseeable future. One of the most popular alternative asset choices is gold due to its proven success as a hedge against inflation.
For centuries, it's been shown that gold is a great investment during times of economic uncertainty like the one we're currently experiencing. Gold, along with other precious metals, tends to perform well when other economic factors such as the stock market and dollar are struggling.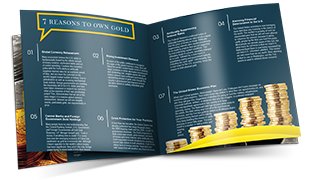 Learn everything you should know about investing in precious metals.
Request the Free Guide
Gold is Breaking Out
Just as precious metals advisors have been anticipating for months, the price of gold is starting to break out. Gold recently reached a high of $1,976 an ounce on February 24, 2022, marking its most valuable position since late 2020. In the past three weeks, gold is up around $120 an ounce, and year-to-date gains are just as impressive reaching over 6%.
There are a number of economic pressures contributing to the current breakout of gold, but it's upward trend is primed to continue. The main driver of gold's value is inflation which is expected to stick around for a long time, with some estimating an impact through 2023. It's not too late to protect your wealth with precious metals.
Don't Wait to Buy Gold, Buy Gold and Wait
Smart investors are moving their assets into precious metals as unprecedented events exacerbate an already crippling economic situation. Gold's recent jump upward is just a minor jump on what experts anticipate to be a major increase in value over the next few years.
Nobody can accurately estimate when the next increase will happen. Instead of waiting to buy gold until it's too late, buy gold and wait. You can learn everything you need to know about investing in precious metals by downloading our Free Gold & Silver Investment Guide.