With investor anxiety continuing to grow, it's no surprise that gold bullion demand has been so strong through the first five months of 2022.
In May 2022, the U.S. Mint reported selling 147,000 ounces of gold in various denominations of its American Eagle Gold bullion coins. This is the highest May volume since 2010, which resulted in 67% growth over April sales.
And if that's not enough, consider this: for 2022, bullion demand is up 617%.
When you consider everything happening in the world today — from skyrocketing inflation to the stock market downturn to the war in Ukraine to the continuing fear of a global recession — it's easy to see why demand for a safe-haven asset like physical gold is so strong.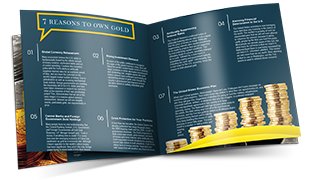 Learn How to Avoid Costly Rookie Mistakes & Invest in Gold Like a Pro!
Get Free Gold Investor Guide
I continue to hear from my clients that they have no confidence at all in what's going on in Washington and around the world. Those who are in charge seem to have no plan nor do they seem to understand the problems we're all facing. With this lack of confidence investors are really trying to find ways to protect themselves and their money in the future.
Steve Rand, a Sr. Precious Metals advisor at Scottsdale Bullion & Coin, echoed this sentiment in this week's The Gold Spot Video:
"The need for investments that are going to go up as inflation increases is needed. We need things with the potential to increase in value, and tangibles, such as precious metals, are one of those things. People are concerned about both protection and privacy, which makes precious metals, like gold, popular."
Don't wait to buy your gold, buy your gold and wait.
With inflation anticipated to stick around for the long term, demand for physical gold (and silver) should continue to remain strong. And with spot gold prices currently at around $1,850/oz, now is a good time to invest. "It's a great buying opportunity whenever [gold] dips below $1,900/oz.," says SBC gold founder Eric Sepanek.
Take your first step to gold investing by requesting your FREE COPY of our popular Gold and Silver Investment Guide today!