"Gold is the foundation of any economic system."

– Precious Metals Advisor John Karow
There's no shortage of concerns threatening the already unstable state of our economy. Still, every prediction and decision made by our financial leaders only lead to more distrust and uncertainty among Americans. Watch the video to hear what Precious Metals Advisor John Karow and Scottsdale Bullion & Coin Founder Eric Sepanek are saying about these economic concerns and why gold spot prices could be about to "POP".
Yellen squirmed in front of Congress.
The American people are running out of patience for financial leaders who don't seem to have the competence necessary to justify their high-level positions. This fecklessness was on full display earlier this week as Treasure Secretary was lambasted by Congress for her grossly incorrect inflation forecast.
Unsurprisingly, the hearing didn't bear much fruit as Yellen dodged pointed questions and criticisms by talking about unrelated political topics. When a straight answer was provided, it was either equivocation or a blame game. She proved, once again, that our financial elite doesn't have a grip on reality.
Hopeful just means helpless.
As the lifeblood of our economy, increasing gas prices have been gutting the average American's bank account. The average cost has reached new highs at $5 a gallon across the country. Once again, the US government hasn't provided any constructive solutions to reduce out-of-control gas prices.
It seems the government would prefer to rely on hope in our deteriorating relationship with the Saudis. However, it's more accurate to say that our leaders must defer to hope because they're helpless. They simply don't see a way out of the economic catastrophe their policies have helped build.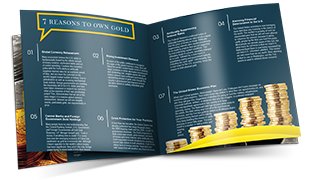 Learn How to Avoid Costly Rookie Mistakes & Invest in Gold Like a Pro!
Get Free Gold Investor Guide
Where we're headed next.
The turbulent past few years have made it painfully obvious that there's always a potential for things to get worse. Although the economic situation looks dismal now, there are warning signs of potential stagflation. Rising inflation and the devaluing dollar have become the norm in the current economic climate, but Americans need to keep an eye out for new developments.
Stagflation is the combination of skyrocketing inflation and a stagnant economy along with high unemployment. Unfortunately, this is where the US economy may be headed. To make matters worse, it's not uncommon for this economic mire to further devolve into a full-on depression.
Gold prices are going to "POP".
The only constant in an uncertain and unstable economy is the steadfast value of precious metals. These assets have proven to be reliable hedges against inflation for centuries, and savvy investors are diversifying their portfolios as the economic situation worsens. The spot price of gold, silver, and other precious metals tends to rise in proportion to the inflation rate.
It's a perfect storm of inflation, stagnation, unemployment, and supply chain issues that will continue to drive people to safe havens such as precious metals. Instead of a gradual rise, we're likely to see a pop in the value of gold. Don't wait for prices to hit all-time highs before investing. It's much better to buy gold and wait for the inevitable value increase.
Interested in learning more about investing in gold and silver? Request your FREE COPY of our popular Precious Metals Investment Guide to learn everything you need to know about these wealth-preserving assets.
Handpicked Related Videos & Articles