"What if everything fails? People used to buy gold more or less as a hedge. Now people are more concerned about absolute dollar failure."

— Eric Sepanek, Scottsdale Bullion & Coin Precious Metals Advisor
Do Fed officials realize they are sowing mistrust when they make questionable claims about the health and recovery of the economy?
In other words, inflation is rising and the supply chain is struggling, but Secretary of the Treasury Janet Yellen and Federal Reserve Chair Jerome Powell seem to be downplaying the seriousness of the situation. How come? Why do Fed statements reek of lies, and what can we do about it?
Join us this week as Scottsdale Bullion & Coin Precious Metal Advisors Eric Sepanek and John Karow discuss what's really going on in the U.S. economy—and how to protect yourself against a rocky marketplace.
How the Economy Is Actually Doing: Very Poorly
Inflation clocks in at around 5% this year—more than double the annual rate of inflation over the past decade. In other words, inflation is high—really high.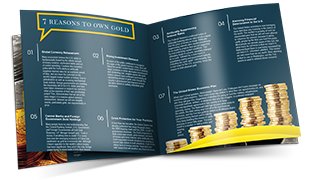 Learn How to Avoid Costly Rookie Mistakes & Invest in Gold Like a Pro!
Get Free Gold Investor Guide
Back in August, Powell laid out five reasons why he thought inflation was set to deflate soon, but recent data has shown the opposite to be true. In fact, inflation is broadening, rather than contracting.
Additionally, a poll by the Associated Press discovered this week that only 35% of the American public believes the economy is doing well. Nearly half of those polled expect the economy to get worse in the next year.
So why is Powell still sticking to his story that we should see prices easing?
Current Inflation Doesn't Seem "Transitory"
"Transitory" is the Federal Reserve's favorite word lately. The official Fed position is that our current economic struggles "should be" temporary. However, we're not convinced the supply chain issues are "just a pandemic issue."
We're not convinced that the inflation we're seeing is, in fact, "transitory."
Empty shelves at the grocery stores. Higher prices at the pump. Supply chain issues everywhere.
Powell is singing a tune of patience, but after six months of rising soaring prices nearly everywhere, the forecast for the dollar remains precarious.
Powell is calling for patience, but we want to urge our clients to think more deeply about what's really going on. Is this another case of the emperor's new clothes? What seems obvious that's not being said by our government officials?
Looking Ahead to a Difficult 2022
Some economists think the current inflation phenomenon could stick around well into 2022. Supply and demand dictate the price of goods and services, not some theoretical situation that Powell seems to want us to believe.
"Our sense is that the inflation and price increases will get worse in the near term before they get better," noted Kathy Bostjancic, chief U.S. financial economist at Oxford Economics.
Goldman Sachs analysts predict that inflation won't decrease until late 2022.
What could happen to the economy, or your savings, in an entire year? With so much on the table that's unpredictable, we don't necessarily believe Powell's reassurances.
Buying physical gold is not just a hedge, anymore, but a possible failsafe just in case the dollar is on its way to serious disaster. Many of our clients are concerned about the security of fiat currency, and if you are, too, we're here to help you invest in precious metals.
Buy Gold Against a Sinking Dollar and Unpredictable Economy
Rising inflation, worsening supply chain issues, failure of the dollar, even gold confiscation—none of these scenarios are out of the question.
It's clear that the Fed is trying to maintain a strong image of confidence even when the ground is obviously shaking underneath them.
Learn for yourself how gold and silver can help protect your investments. Request your free precious metals guide today!