Will the Next Big Hack Wipe Out Your Money?
Jump to a section within this guide:
What would you do if hackers drained you bank account? If recent history has shown us anything, it's that even the largest financial firms and credit agencies are vulnerable to attack.
It's not a question of whether or not you will become a victim of a cybercrime. In fact, you've likely already been exposed. The real question is how do you plan to protect yourself if your money falls into the hands of cybercriminals? Don't wait until it's too late.
The latest security breach at Equifax exposed the personal data of a staggering 143 million people. That information includes names, addresses, social security numbers, birthdates and driver's license numbers – all the information criminals need to get into your bank account or open up a fraudulent line of credit using your identify.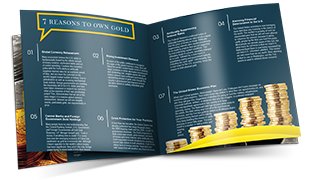 Learn How to Avoid Costly Rookie Mistakes & Invest in Gold Like a Pro!
Get Free Gold Investor Guide
Around the time the breach was discovered internally, three executives at Equifax sold off $2 million in stocks. While the credit reporting agency claims the executives did not know about the hack when they sold shares, the timing has prompted the Justice Department to open a criminal investigation.
According to a Bloomberg report, the Feds are going to probe the stock sales as possible insider trading and look into why it took Equifax more than a month to announce the breach publicly.
Equifax is only the latest company to get hit with a large-scale cyber attack. In recent years hackers have managed to breach some of the largest businesses and government agencies on the planet, leaving billions of people exposed. Below, you'll find just a few of the many examples.
Securities and Exchange Commission
The SEC is the primary regulator on Wall Street and stores vast amounts of sensitive financial data. The agency recently announced that hackers were able to infiltrate its files and gain access to information that could have been used to profit from illegal trading. Officials discovered the breach last year, but only recently determined that the information could have been used for financial gain. Cybersecurity expert Morgan Wright told Fox News the SEC hack could put trillions of dollars of wealth in jeopardy.
YAHOO!
From 2013 through 2014, the online giant announced it had been breached and believed "state sponsored actors" were behind the attack. Hackers gained access to the user account information and passwords of 1 billion people.
eBay
The eBay hack created a nightmare situation for millions of people who trusted the massive e-commerce platform with their payment information. In 2014, hackers gained access to the names, addresses and account passwords of 145 million users.
Target Stores
The holiday shopping season was in full swing in 2013 when Target announced it had been the victim of a massive security breach. Cybercriminals were able to hack into the company's credit and debit card readers, collecting the names, addresses, credit and debit card numbers of an estimated 70 million customers.
JP Morgan Chase
Even the biggest bank in the country can be the victim of a large-scale hack, as we learned when JP Morgan Chase was breached in 2014. The attack exposed the private information of 7 million businesses and 76 million customers. The financial giant claimed no money was stolen from accounts as a result, but who knows what the next breach will bring?
Freeze Your Credit
The first step you should take is putting a freeze on your credit report at Experian, Equifax, TransUnion and Innovis. This will prevent crooks from opening up a line of credit in your name. Equifax is offering this service for free, along with its TrustedID credit monitoring, which will alert you to any suspicious activity on your credit. Don't expect this process to run smoothly. Equifax admits to being overwhelmed with requests and many consumers say they've tried enrolling multiple times without success.
Request an IRS Security PIN
The Equifax hack exposed millions of social security numbers. Criminals can use your name, address and social security number to file false tax returns in your name and claim a fraudulent refund. Obtaining a security PIN from the IRS will prevent fraudsters from using your information to file a fake tax return.
Claim Your My Social Security Account
If you are nearing the age of 62 and haven't set up your account on My Social Security, you could be in danger. Anyone with access to your name, address and social security number can create an account in your name and have your social security payments sent to them. If you haven't created your account yet, now's the time. If you already have an account, it's not a bad idea to update your login credentials.
Diversify Your Assets
Place a portion of your assets in a physical investment, such as precious metals. Having gold on hand in a vault that you have access to is like buying insurance for your hard-earned money. If your bank account, retirement savings or social security payments are compromised by hackers, at least you'll have access to physical currency. Don't let criminals rob you of the ability to keep a roof over your head and food on the table.
When it comes to protecting your information & investments, it's up to you to make the right decisions.
a bird in the hand is worth two in the bush
Hackers already have and will continue to infiltrate the largest financial agencies in the world. Your bank account, credit history, mortgage and retirement savings are all at risk because all of the major banks, financial institutions and credit reporting agencies store your information online.
Actual gold in a physical vault is hack-proof. Having at least part of your assets in gold could help ensure you have funds available if your bank account is compromised.
Gold vs. Cash: Which Will Protect You From Financial Chaos?
Keeping cash in a vault that you control can be an effective way to keep a portion of your assets available in the event your financial information is compromised. However, cash isn't a great option if you plan on storing your assets for any period of time. Here are a few key reasons to think twice about cash:
The dollar is declining in value and will probably continue to do so
Gold tends to gain value is the dollar decreases
Inflation is sure to take a toll on cash reserves
Gold is a safe haven investment and a great hedge against inflation. During times of uncertainty, investors look to gold as the ship that will help them ride out the economic storm, and the coming storm might just dwarf them all.
Anyone who's been the victim of identity theft knows the investigation can drag on for many months, if not years, and you may not recover your hard-earned money until the investigation is complete, if at all.
In the meantime, you've got bills to pay and food to put on the table. Diversifying your assets with gold will ensure you have something to fall back on when your financial information is exposed by criminals.