"We're at a point where something could break in the near term… so, everyone buckle up!"

– Precious Metals Advisor Damian White
At this point, the American people are braced for the worst. The onslaught of poor economic numbers, dismal forecasts, and lackluster market performance has awoken everyone to the grim reality of the economy. Now, the question is becoming more of a matter of how long these conditions will last.
Unfortunately, the most recent headlines suggest we haven't quite hit the bottom yet. Watch the video to hear what Precious Metals Advisors Joe Elkjer and Damian White have to say about the situation and why this is a golden opportunity for precious metals investors.
The Impending Economic Catastrophe
There's a tidal wave of economic misery headed our way, and the Fed's hardline rate-hike policy is the driving force. Mortgage rates have boomed to the highest levels since 20061(UPDATE: 30-year fixed now at highest rate since 20022), straining the already faltering housing market. Interest rates are already hitting serious levels and the Federal Reserve is resolute in its policy.
This strategy is bolstering the value of the US dollar while tanking currencies around the world. We're essentially exporting our inflation, but a reckoning is right around the corner. It's only a matter of time before the pressure placed on foreign economies is simply too much to handle, leading to fallouts around the globe.
The International Monetary Fund (IMF) recently warned that the "worst is yet to come" in terms of economic misfortune. The global organization cited the aggressive efforts to curb inflation as the cause of the impending issues, warning the rate hikes would exacerbate an already struggling global economy.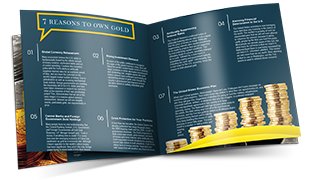 Learn How to Avoid Costly Rookie Mistakes & Invest in Gold Like a Pro!
Get Free Gold Investor Guide
If that wasn't enough to scare investors, the Bank of England is warning of "material risk" to the nation's economic stability which is Central Bank code for complete and utter disaster. England's bond market is crumbling, leaving pension funds for millions of Britains at risk.
The Fed Admits "Pain" is Inevitable
In a rare moment of candor, the Fed has made it clear that rate hikes will continue until inflation is back under control. Just recently, the Central Bank admitted that this strategy would be pursued no matter how harmful the implications. The Fed has told people to brace for "pain" as our financial czars anticipate the situation to deteriorate quickly.
The war on inflation could lead to nationwide job loss, businesses spending less, and personal financial pain all of which we're already experiencing in varying degrees of severity. It's increasingly challenging to trust a government that doesn't seem to care how its actions affect the average American.
👉 Suggested video: 2008 vs 2022: Market Similarities, Differences, & Gold's Reaction
Investors Are Taking Shelter in Gold and Silver
The warnings of an unavoidable economic meltdown have investors rushing to buy gold and silver coins, gold bullion bars and silver bullion bars, in hoards. In fact, central banks around the world have increased their collective reserves by more than 20 tonnes3 since August, marking the fifth consecutive month they've been bulking up their collections.
Great Buying Opportunities on Gold and Silver
While economic conditions flounder in most markets, precious metals are looking ripe for the picking. Spot gold and silver prices remain relatively low in the United States when compared to other countries due to the strength of the greenback. This window of opportunity won't last long as precious metals prices are expected to skyrocket when the Fed's policies bring inevitable pain.
Investors are already competing for limited gold and silver products as demand bounds and supplies wane. If you're interested in gaining protection from the economic hardship that lies ahead, get in touch with one of our precious metals advisors by using our live chat function or calling 1 (888) 812-9892.