Faster than a speeding bullet. More powerful than a locomotive. Able to leap tall buildings in a single bound … It's Superman!
Such preternatural powers were historically assigned to the queens, kings, and emperors whose visages graced the world's earliest coins. It's only fitting in modern times that a figure of fictitious yet equal greatness shares the same honor by having his shield—symbol of hope, truth, and justice—sculpted in silver.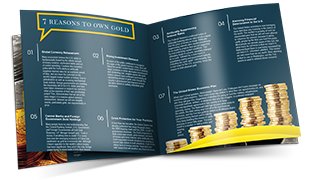 Learn How to Avoid Costly Rookie Mistakes & Invest in Gold Like a Pro!
Get Free Gold Investor Guide
2016 Silver Superman $5 S-Shield Coin Significance
For nearly 80 years, Superman has stirred young imaginations, inspired hope, and reinforced sacred values of truth and justice across the globe. What better way to celebrate the "Man of Steel" than by featuring his iconic S-Shield in the world's other favorite white metal—silver? Thanks to the Royal Canadian Mint, this archetypal superhero's legacy will shine on for generations to come.
2016 1 OZ Canadian Superman Shield Coin Description
Superman's S-Shield is brilliantly depicted on the reverse of the coin: the radial line patterns behind the shield and the premium frosting on it combine to make this iconic symbol appear to pop out from the coin—as if Superman himself is thrusting the shield forward with his chest. A micro engraved textured maple leaf below the shield provides added security and peace of mind. Inscriptions of "CANADA," "9999," "FINE SILVER," "1 OZ," and "ARGENT PUR" encircle this empowering image.
The obverse of the Silver Superman coin features famous Canadian portrait artist Susanna Blunt's profile of Queen Elizabeth II, similar to the Silver Maple Leafs. This classic depiction of the queen with her hair neatly coiffed and donning a string of pearls around her neck has graced Canadian coinage and currency since 2003. Engravings of "ELIZABETH II," "D.G. REGINA," "2016," and "5 DOLLARS" surround her profile.
2016 1 OZ Canadian Silver Superman Shield Coin Specs:
Superman Coin Details
| | |
| --- | --- |
| Denomination: | $5 |
| Composition: | 99.99% fine silver |
| Finish: | Bullion finish with brilliant frosted relief on lined background |
| Country of Origin: | Canada, fully backed by Canadian government |
Add a 2016 Silver Superman $5 S-Shield Coin to Your Collection
Add some superhero shine to your collection with this stunning 2016 1 OZ Canadian Superman shield coin. Call Scottsdale Bullion & Coin for prices & availability: 1-888-812-9892.