The short trading week following the Memorial Day holiday on Monday painted a fairly flat line for gold. The yellow metal opened the week initially retreating from a one-month high. Tuesday showed losses from the previous week, specifically achieving a two-week low of $1,197. The drop can be attributed to comments made by Federal Reserve Chairwoman Janet Yellen the previous Friday, in which she affirmed an eventual interest rate hike this year. Market watchers are now anticipating a move in September. The dollar remained strong.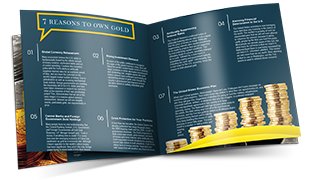 Learn everything you should know about investing in precious metals.
Request the Free Guide
The price of gold, however, has experienced some support from continuing concerns over Greece. Concerns arose that the country would not be able to make its June IMF payment. A U.S. report on durable goods released Tuesday morning also contributed to data evidencing growth in the U.S. economy, bolstering the dollar.
Wednesday's gold price remained steady. The euro stabilized and Greece seemed to have reached a debt relief agreement. The price drop in gold did not stimulate Asian buying. Gold demand in Asia is generally muted during the summer. Bachhraj Bamalwa, director of All India Gems and Jewelry Trade Federation, said that he expects consumer demand to be fairly slow in the next 2–3 months, but could increase if prices drop dramatically. ANZ predicts a break below the $1,100 mark soon.
The rest of the week was slow for gold, without any notable events or gold price changes. By Friday, the yellow metal had lost 1.3%, despite news that the U.S. economy had shrunk 0.7% in the first quarter of the year. Swiss financial analysts MKS predict a new short-term trading range for gold between $1,180 and $1,195.