Gold started out very strong coming into the previous week of trading, but this was a week of consistent losses, leaving gold teetering perilously close to the $1,200 per ounce figure by the week's close.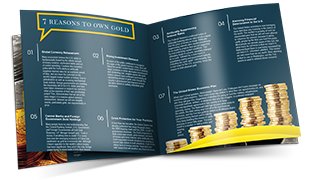 Learn everything you should know about investing in precious metals.
Request the Free Guide
Monday saw investors abandon gold faster than a sinking ship after the dollar index gained its eighth straight week against the Euro. The high of $1,225 per ounce entering the day dropped to $1,206 by the ringing of the bell, making it one of the worst days for gold in 2015. Silver performed even worse, losing sixty cents per ounce or the equivalent of 3%. In addition to the dollar index, drops in crude oil prices also had a negative impact on gold.
Tuesday saw the price of gold climb slowly but steadily, peaking at $1,212 per ounce before closing out the day at $1,208 per ounce for nearly no net gain. At 101,000 contracts, gold had an average day in terms of movement. By Tuesday the dollar index had enjoyed a growth of 90 index points from the week prior, making currency a more appealing market than metals.
Gold got a brief spike on Wednesday thanks to the Federal Reserve's announcement that it would be premature to raise interest rates in June. Gold futures rose by two dollars per ounce. MKS Switzerland noted that they believed gold would follow the range of $1,200-$1,215 in the short term.
Gains from a mid-day surge on Thursday were wiped out by the conclusion of trading, as gold climbed to $1,214 but fell back down to $1,204.  An industry report released on Thursday revealed that global gold consumption had dropped by about 1%, meaning that growing demand in India hasn't offset the major losses of the Chinese market.
Friday saw no overall gains or losses as gold swung a dollar in both directions throughout the day without making any major waves. The closing cost means that gold had a positively brutal week thanks almost entirely to the Monday drop and the rising dollar index. While gold has climbed overall during the month of May, the metal has not gained any net value in the past six weeks.